Visitor Information
The 2023 patch featuring a Northern Waterthrush is now available for pre-order. We will ship the patches as soon as the shipment is received.

High Island patches make great holiday gifts! Pre-order a patch and announce your gift with this festive postcard.
Admission: Purchase a patch for unlimited access to all High Island sanctuaries for the entire year!  Patches are $30 and can be purchased at the information booth on-site. Day passes are sold on-site for $10/person. Free admission for children, students, and High Island residents. Houston Audubon membership does not include access to the High Island sanctuaries. We appreciate your support.  
Explore the Kathrine G. McGovern Canopy Walkway at Smith Oaks!
Map of High Island and trail maps for Smith Oaks and Scout Woods Sanctuaries

Visit Texas eBird to find out what's being reported. All of Houston Audubon's High Island sanctuaries are eBird hotspots
Our High Island sanctuaries are open daily throughout the year. Peak spring migration season is from mid-March to mid-May. Numbers are highest during a "fallout", which sometimes occurs with a fast-moving cold front. During fall migration, late September to mid-October usually produce the best results.
The four sanctuaries at High Island (Boy Scout Woods, Smith Oaks, Eubanks Woods, and Gast Red Bay) are open 365 days a year, dawn to dusk. At Smith Oaks the gate at Old Mexico Rd is open dawn to dusk March 15-May 15 and on weekends in the fall: September 15-October 15. The Winnie Street entrance at Smith Oaks is open 365 days a year, dawn to dusk.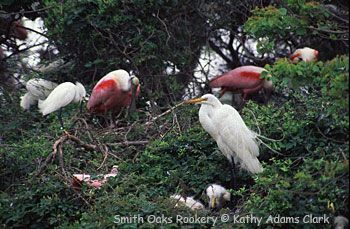 The Rookery at Smith Oaks
High Island Patch
Story of the patch and a photo gallery of all previous yearly patches. You can also order patches from previous years.
Our Sanctuary Neighbors
Please be considerate of our neighbors! Birds can be found almost anywhere on High Island, including our neighbors' yards. Please do not enter their yards and be careful when you aim your binoculars, as some people get the idea that birders are looking in their windows and invading their privacy.
High Island Community
Please support local businesses and civic organizations as much as possible. Communities are more willing to support local conservation efforts if they feel protected habitat helps the local economy. See the list of accommodations, food, and other useful addresses compiled by Houston Audubon members.
Official website for Galveston Island

High Island visitor and lodging information for the Bolivar Peninsula

High Island visitor and lodging information for the Winnie area
Sanctuary Rules
You are visiting habitat that is critical to birds and wildlife. Please respect the following rules put in place to protect wildlife and provide an enjoyable visitor experience. 
Respect all wildlife, and be cautious of venomous snakes, mosquitoes, fire ants, poison ivy, and armadillo burrows
No dogs or other domestic animals 
Stay on marked trails
No littering–leave nature as you found it
Walking only, no bicycles
No collecting or introduction of plants or animals
Do not block trails and boardwalks with tripods
Chairs and wheeled equipment carts are not allowed on boardwalks. Child strollers, wheelchairs, and walkers are allowed when used as intended by the manufacturer
No drones/unmanned aerial vehicles (UAVs) allowed
No flash photography
Don't agitate the birds. Bird calls, pishing, playback devices, and laser pointers are not allowed
No firearms or hunting permitted
No smoking or alcohol consumption
Be cautious- boardwalks and trails are slippery when wet and tripping hazards may exist
Contact Pete Deichmann, Sanctuaries Manager, at pdeichmann@houstonaudubon.org with any questions.
Photography Guidelines for the Rookery Observation Platforms
Please show consideration for other sanctuary visitors and allow them to view birds from the observation platforms.
 
Limit your time at the front of the observation platforms to 20 minutes.
 
Flash photography allowed only within the photo blind at Boy Scout Woods.
 
If you are not taking pictures, please move your equipment off the platform.  
Camping
Tents at Smith Oaks

Tents are allowed in the picnic area only. The maximum limit is 3 days. There is no charge. Tents must be down each morning. No open fires. No water is available. but portable toilet facilities are available.

RVs

No overnight RV parking in Houston Audubon High Island sanctuary parking lots, except for working volunteers with a parking permit.
High Island is on the coast just off Hwy. 87. It can be reached by taking I-10 east from Houston, taking the exit at Winnie to go south on Hwy. 124. Another option is to use the free Galveston - Bolivar ferry and proceed up the coast on Hwy. 87.