Log Cabin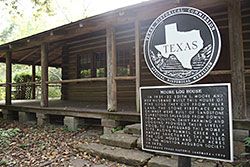 "We bought out in the country, 17 miles from downtown, the loveliest place, where yellow jasmine climbed to the top of the pines. The dogwood and holly were so numerous, and I loved it." - Edith L. Moore
Using native pines they harvested from the surrounding forest, Edith Moore and her husband Jesse hand-constructed a log cabin in 1932 on the west bank of Rummel Creek, a tributary of Buffalo Bayou. As the years passed and the city of Houston expanded around her, Edith hung on tenaciously to her piece of nature and her way of life.
In 1975, to ensure the wildlife within her woods would be protected and enjoyed by future generations, she bequeathed 17.5 acres of land and her log cabin to Houston Audubon on the condition it be maintained as a permanent nature sanctuary. In the 37 years since, Houston Audubon has managed and protected this special place according to her wishes. Today, when visiting Edith's cabin, children are encouraged to touch ... create ...imagine ... grow. As the home for education programs serving over 9,000 annual visitors, Edith's cabin serves as a tangible connection to the past for Houston-area children, and provides a setting that allows them to establish lasting relationships with the natural world. Due to its iconic quality, the Moore log cabin is the focal point of Houston Audubon's Edith Moore Nature Sanctuary. Recognized as a Texas Historic Landmark in 1995, the cabin is the only log home within the city of Houston that still stands today where it was originally built. It is an increasingly rare and tangible piece of Houston's past.
To learn more, see Little Cabin in the Woods, written by Don Gray. This article, first prepared for the March, 2011 issue of the Elmwood Gadget, was excerpted from The Moore Log House, a history researched and prepared by Gregg Mueller with commentary from reminiscences of Edith L. Moore.
2012 Cabin Restoration
In 2012, as the cabin celebrated its 80th birthday, the time came again for Edith's home to receive much needed restoration and improvement. Key project components included: careful replacement of five supporting logs; installation of cedar shingle roof; cabinetry and flooring restoration; electrical wiring and lighting enhancement; plumbing and restroom design improvements for accessibility; repair and reglazing of split-pane windows, A\V and meeting space renovations; construction of a visitor kiosk; installation of new gardens; and historic photo and artifact restoration for cabin interpretation programs. We are grateful to our general contractor, Steve Riha, and to our consulting architect, Kerry Goelzer for their expertise, conscientious work and partnership. We are also very thankful for our friends and supporters, particularly to Terry Hershey, who gave the lead gift in honor of her husband Jake.
History Timeline
1926-1927: Property bought by Edith and Jesse Moore
1931-1932: Cabin built using logs from the site. Small circular pond next to the cabin dates back to the 1930s.
1974: Property willed to Houston Audubon Society under the Last Will and Testament of Edith L. Moore
March 22, 1975: Edith L. Moore died
1975: Houston Audubon establishes the Edith L. Moore Nature Sanctuary
1976: First Audubon Docents began volunteering as tour guides
1979: Creation of large pond next to Rummel Creek
1980: First owl prowls
1981: Construction of bridge across Rummel Creek
1982: First summer camp programs
1983: Chickadee Nature Store opens in cabin
1980s: Major expansion of large pond
1986: Audubon Docent Guild formally established
1988-1989: Restoration of log cabin
1997: Log cabin dedicated as a Texas State Historical Site on February 15
1997: Dedication of administration building on October 25
2003: Electronic gate added to entrance
2008: Completion of major erosion control project by Harris County Flood Control District
2012: Restoration of Edith L. Moore log cabin
Log Cabin Photo Gallery
Cabin Construction 1931

ELM Cabin

Original Floor Plan

Christmas Card

Edith and Jesse Moore

Small Pond

Historical Landmark Sign

First Cabin Reconstruction

Damage to Logs - 2011

Beetle Damage - 1989

Split Logs - 2011