Speaker Events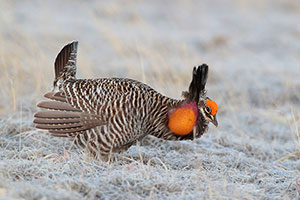 Attwater's Prairie-Chicken by Greg Lavaty
Birding Then and Now
with Fred Collins and Bob Honig
Date: May 30, 2019 (rescheduled from May 9)
Time: Social at 7:00 PM; Presentation at 7:30 PM
Place: United Way, 50 Waugh Drive, Houston, TX 77007
This event is free and open to the public. Please register so we have an idea of how many are attending. The Houston Audubon board election will precede the presentation.
Please register to let us know how many people might be attending.
This form stopped accepting submissions on May 30, 2019 7:00 pm CDT.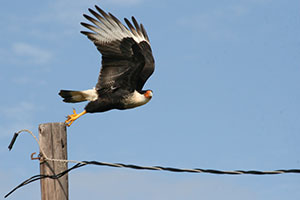 Crested Caracara by Bob Honig
How has Houston area birding changed in 50 years?  Relying significantly on the Houston Ornithology Group's 1968 "Good Birding Trips" guide, Fred's firsthand perspective, and Bob's analysis of satellite imagery, our speakers will explore changes over time at popular birding locations: some that birders visited 50 years ago but have disappeared, some current hot spots that were not available to birders 50 years ago, and some that birders have frequented for the past 50 years and more. The presentation will include White Memorial Park, High Island, Bolivar Flats, Galveston Island, the Katy Prairie and prairies on the west side of Galveston Bay, plus more. It's a story that documents the overall loss of valuable habitat over the years as well as more recent protection of and public access to sites important to birds.
Houston native Fred Collins made his first year list in 1962 and has kept one every year since. He earned a B.S. in Wildlife Science and attended graduate school at Texas A&M, where he studied wintering Wilson's Snipes. From 1994 to 2002 he served as Director of Russ Pitman Park's Nature Discovery Center. Since 2002 he has been Regional Park Manager for Harris County Precinct 3, where he developed and is currently director of both Kleb Woods Nature Center and Cypress Top Historic Park. He sits on advisory boards for Houston Audubon and the Katy Prairie Conservancy, and he is Compiler of the Cypress Creek CBC. As a member of the Texas State Historical Association and a life member of TOS and the Southwestern Association of Naturalists, Fred continues his passion for birding Texas and learning about the history of both its wildlife and its people. He and his wife live on 100 acres of the Katy Prairie with 4 dogs, 9 horses, 100 free-ranging chickens, and 50 parrots. While the nest isn't exactly empty, their two sons have long since fledged.
Bob Honig has spent many years observing and studying natural history, particularly birds, dragonflies, and damselflies.  He is a member of the Advisory Board of the Katy Prairie Conservancy, after having served on its Board of Directors for 25 years.  He is a past Chairman of the Ornithology Group of Houston's Outdoor Nature Club and a former Compiler of the Buffalo Bayou and Brazos Bend Christmas Bird Counts.  Professionally, as an environmental consultant, he has addressed such diverse issues as endangered species, wetlands, archaeology, recycling, and sustainable development, and performed numerous bird surveys.His work has taken him throughout North America and has included environmental surveys in Bolivia and the Algerian Sahara.  Bob has led — often with his wife, Maggie — numerous field trips/tours throughout the Houston area, elsewhere in Texas, to Glacier National Park in Montana, and to the Asa Wright Nature Centre in Trinidad; and they have been part of Earthwatch expeditions to study caterpillars and their parasitoids in Costa Rica, sustainable watershed management in California, and Flammulated Owls in Utah.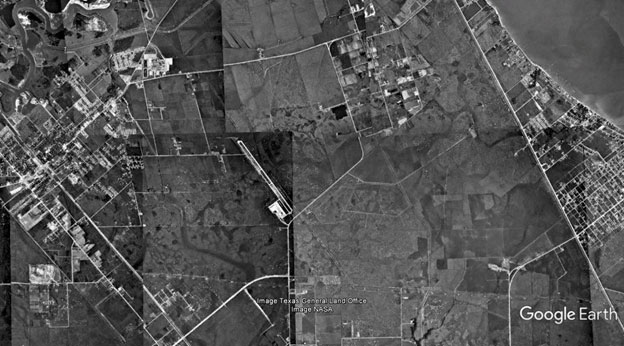 Spaceland Airport - Then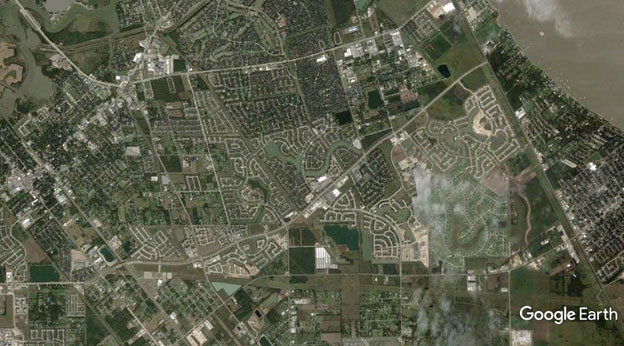 Spaceland Airport - Now