Speaker Events
March 2021 Speaker Event
Window Pains: Helping Birds Survive a Human World
with Heidi Trudell
Date: March 11, 2021, beginning at 7 PM. Speaker events are held on Zoom with a live broadcast to the Houston Audubon Facebook page.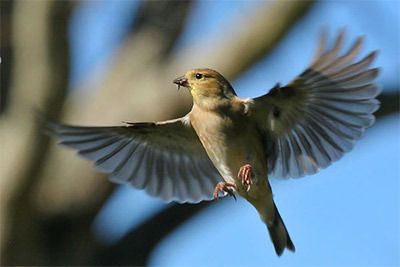 American Goldfinch by Greg Lavaty
Want cheap and simple solutions to window collisions? Want to find out what's wrong with most products on the market? Myth busting will help you find out what to do and what not to do! Find out how the Animal Help Now app (ahnow.org) can help you respond to stunned birds quickly using best practices. Nearly a billion birds are killed each year in the US alone, when they collide with glass structures. With native bird populations experiencing steep declines, it's critical to take immediate action to reduce the human threats to their survival. In addition to habitat loss and outdoor cats, glass is the leading cause of death among songbirds: these, and other factors will be explored during the session.
Heidi Trudell is tired of picking up dead birds. She's a biologist turned architectural consultant who has been involved with bird/window collision research and prevention since 2003, and has monitored wind farms as well. Her passion for bird conservation has led her to serve on Safe Passage committees, including currently with Detroit Audubon and Black Swamp Bird Observatory. To learn more about her work, find her at justsavebirds.com and her Facebook groups: Just Save Birds, and Dead Birds 4 Science! In a former life she 'collected' CBCs, guided on the UTC, in the RGV, and fell in love with moths in far West Texas.