Other Houston Audubon Bird Cams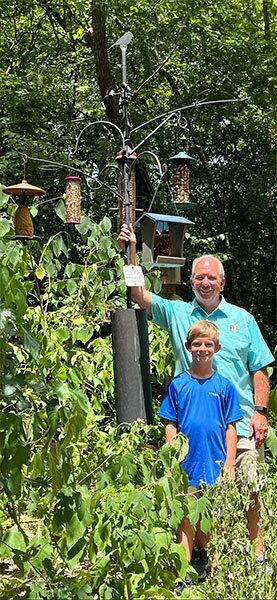 Feeders
We get a lot of questions about the feeders, so here is the full scoop.
The feeders are located in the front garden of the historic log cabin. They are hanging from metal crooks on an Advanced Pole System with a squirrel guard halfway up the pole. A description of each feeder from left to right is shown below.
The feeders, along with ones in the back garden of the log cabin, are generously provided and re-stocked by the Wild Birds Unlimited store at 14032 Memorial Drive near the Sanctuary.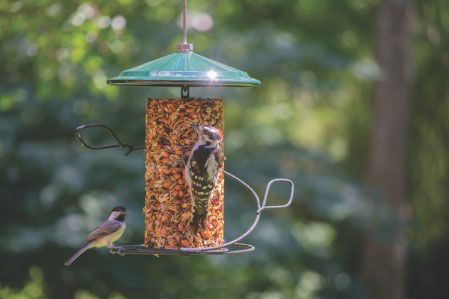 Seed Cylinder Feeder
Seed cylinders are seed shaped into a cylinder held together with gelatin.
They are easy to fill.
They typically last longer than loose seed.
Most seed-eating birds will eat seed cylinders.
---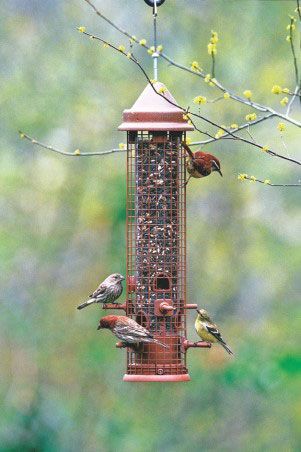 Fundamentals Squirrel-proof Feeder
Fundamentals Squirrel-proof Feeder
Cage comes down around the tube in the middle shutting off feeding ports.
Keeps squirrels from eating seed.
It needs 18" of space around it to be completely effective.
Most seed-eating birds will eat from it. It can help control White-winged Doves.
---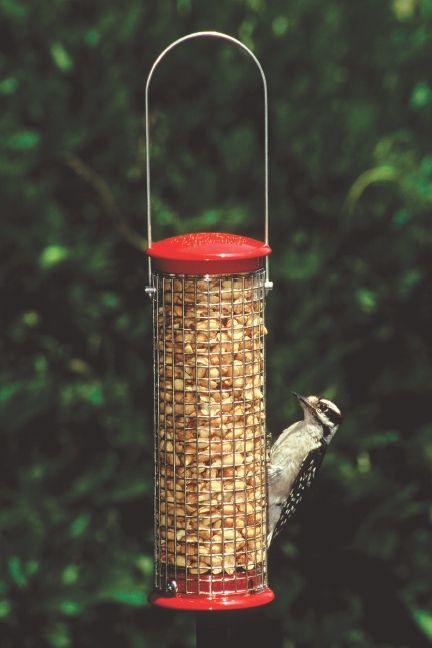 Shelled Peanut Feeder
Peanuts are high-protein foods for birds.
Woodpeckers, jays, titmice, chickadees and many others like shelled peanuts.
The birds have to break the peanut apart in the feeder keeping them there longer for you to observe them.
---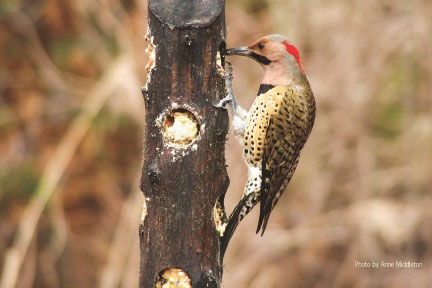 Suet Log Feeder
Made for clinging birds such as woodpeckers.
Suet is high in proteins and fat which help birds grow healthy feathers.
Insect-eating birds such as warblers like it, especially in winter when insects can be scarce.
---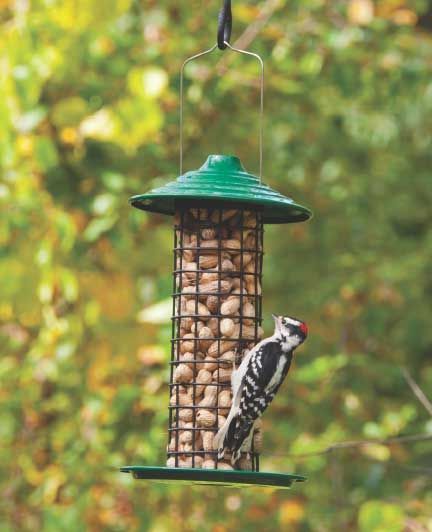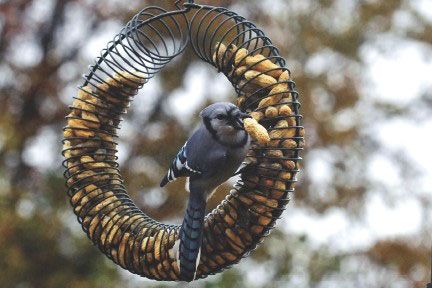 In-shell Peanut Feeders
Made for in-shell peanuts.
Blue Jays, Red-bellied Woodpeckers and Tufted Titmouse like in-shell peanuts.
---
Advanced Pole System 20" Birdbath 
Plastic dish makes cleaning easy.
Water is shallow enough where most birds feel comfortable getting in to bathe
---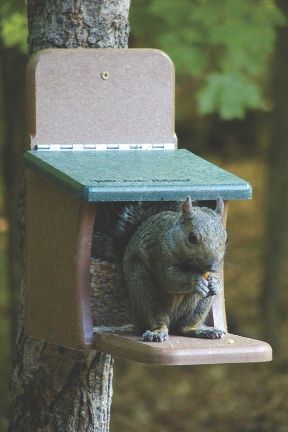 EcoTough Squirrel Feeder (not on camera)
Squirrels learn to lift the lid and reach in to get the food.
Protects food from birds, making it a true squirrel feeder.
Made from recycled plastic bottles.
---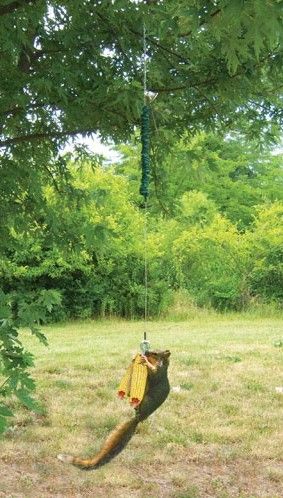 Squngee (not on camera)
When mounted 24"-30" off the ground, squirrels must jump to the corn and the spring bounces under their weight.
They will pick one kernel of corn off and drop to the ground to eat it, and then jump back up for another kernel.
It is a very entertaining way to feed the squirrels.
---