Dos Vacas Muertas Bird Sanctuary
Visit Texas eBird to find out what's being reported.
Dos Vacas Muertas is an eBird hotspot.

Article on The Chronicle website about how Dr. and Mrs. Clayton created the sanctuary.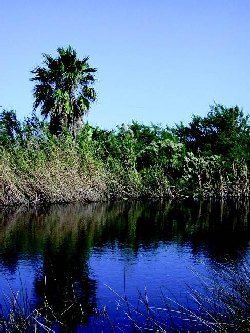 Located on the west end of Galveston Island, this 6-acre sanctuary was donated to Houston Audubon in 2001 by Dr. and Mrs. George Clayton for use as a bird sanctuary. They named it Dos Vacas Muertas in memory of the dead animals they'd found on the property after Hurricane Alicia. Open to the public, it contains a pond lined with cane, a small spartina marsh, coastal grassland with cord grass and a woodlot of live oaks. A water drip has been added in front of the two benches. The sanctuary contains flat sandy beach habitat with adjacent wetlands with access to West Bay. Please note that vehicular access to West Bay is not allowed.
Directions: Take I-45 South to Galveston's 61st St exit. Turn right onto 61st and proceed to Seawall Blvd. Turn right on Seawall and go approximately 15.6 miles to a dirt road on the right, named "Sea Bird Drive". Sea Bird Drive is before Sea Isle and an outboard motor shop. It is shortly past Sunset Cove Subdivison. Drive down Sea Bird Drive to the sanctuary turnstile entrance.
Restoration Projects at Dos Vacas Muertas
February 2022 Update

We've been making improvements at our Dos Vacas Muertas bird sanctuary on the west end of Galveston Island. Sanctuary Manager Trey Morris has been working hard to get the place cleaned up and better suited for visitors. The newly widened trails have been trimmed and mowed, and the Salt Cedar that borders the parking lot has been significantly cut back, allowing for more parking spots. Plant growth and freeze damage to palms had reduced the size of the picnic area and decreased visibility at the main drip. Much of this has been cleared, allowing for a larger picnic area with better views, and we are working on clearing the drip area. The property already looks much better, and we are excited for you to follow our progress and enjoy the sanctuary.

August 2013 Update

Cynthia and Dan Hughes of Galveston helped us out in a big way at Dos Vacas Bird Sanctuary by moving dumped piles of construction waste out of the sanctuary and recycling some of the wood to mount signs to deter future dumping. What a shining example of what makes Houston Audubon special. Thank you Cynthia and Dan Hughes!

June 2013 Update

Over the past several months the addition of numerous trees and irrigation have given this sanctuary a needed boost. Recently a covered picnic table and shade cover for benches were added. Next on our list is fencing to keep vehicles out of the sanctuary. Thanks to all who are helping with our restoration efforts at Dos Vacas! Special thanks go to Alice Anne O'Donell and Brenda Dawson.
The work continues! We are seeking funds to restore and protect Dos Vacas Muertas Bird Sanctuary. Contact: Pete Deichmann at pdeichmann@houstonaudubon.org.