Edith L. Moore Nature Sanctuary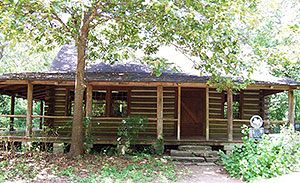 Note: Bridge 11 is closed while construction is underway. Signs have been posted.
The Edith L. Moore Nature Sanctuary in West Houston is an 18-acre wooded preserve along Rummel Creek featuring the 1932 Moore Log Cabin education center as well as the Houston Audubon headquarters.
Help us restore Edith L. Moore Nature Sanctuary at a workday!  
Visitor Information
Privately owned and managed by the Houston Audubon Society. We welcome your donations!  

 
Open 365 days a year - Gates open at 7 AM and close at 7 PM (9 PM in summer).

 
Stay on marked trails. - Walking only - Creek & pond access limited to staff-supervised programming.

 
The Log Cabin is open for scheduled programming only. The cabin is open to the public during our monthly 4th Saturday in Nature program.

 
Boardwalks may be slippery when wet.

 
Beware of venomous snakes, mosquitoes, fire ants, poison ivy and armadillo burrows.

 
Your generous donation helps to preserve the sanctuary for the birds and for our future.

 
Group Visits: All groups (*defined as larger than 7 persons) must pre-register by sending your request to docent@houstonaudubon.org.
Mission
The mission of the Houston Audubon Edith L. Moore Nature Sanctuary is to provide an urban wildlife sanctuary for native plants and animals and to provide education about the natural environment to Houstonians of all ages. An average of 10,000 people participate in hands-on, environmental education programs at the sanctuary each year.
Nature
Within its 17.5 acres of hardwood and pine forest and freshwater habitats, the Edith L. Moore Nature Sanctuary provides an important home for native wildlife. Resident mammals, migratory songbirds, shorebirds, birds of prey and a variety of species of reptiles and amphibians live within the sanctuary. Within Rummel Creek and the ponds of the sanctuary, you can find resident bull frogs, as well as bronze and leopard frogs. Many turtles and several species of water snakes and aquatic invertebrates also call our creek and pond habitats home.