About Edith L. Moore Nature Sanctuary
COVID-19 Response: Open every day from 7 AM to 7 PM. Restrooms are closed. The only entrance is at the east gate in the Memorial Drive United Methodist Church parking lot. Parking is available in the church parking lot.
Through the end of 2020 the Sanctuary will open 12:30 PM on Tuesdays to allow volunteers to work on maintenance and upkeep.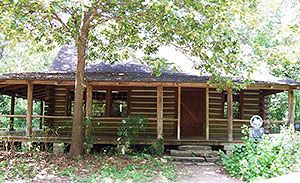 The Edith L. Moore Nature Sanctuary in West Houston is a 17.5-acre wooded preserve along Rummel Creek featuring the 1932 Moore Log Cabin education center as well as the Houston Audubon headquarters.
Mission
The mission of the Houston Audubon Edith L. Moore Nature Sanctuary is to provide an urban wildlife sanctuary for native plants and animals and to provide education about the natural environment to Houstonians of all ages. An average of 10,000 people participate in hands-on, environmental education programs at the sanctuary each year.
Nature
Within its 17.5 acres of hardwood and pine forest and freshwater habitats, the Edith L. Moore Nature Sanctuary provides an important home for native wildlife. Resident mammals, migratory songbirds, shorebirds, birds of prey and a variety of species of reptiles and amphibians live within the sanctuary. Rummel Creek and the ponds of the sanctuary host resident bull frogs, as well as bronze and leopard frogs. Many turtles and several species of water snakes and aquatic invertebrates also call our creek and pond habitats home.
Links
Contact Lauren Miheli at lmiheli@houstonaudubon.org with any questions.