Virtual Programs
Prepared by Houston Audubon's education team
Silent Hunters - Discover the World of Owls
Objective: Students will learn about the variety of owls that live in Texas and the U.S., including their amazing adaptations and their role in the natural world.
General Information: Owls are birds of prey. At night, they occupy the hunting and feeding niches that the hawks hold by day. Superb, specialized predators, owls are adapted to find, catch, and kill prey quickly and efficiently. They have been doing it for ages - owl fossils found in the Midwest in rocks of the Eocene period date back about 60 million years!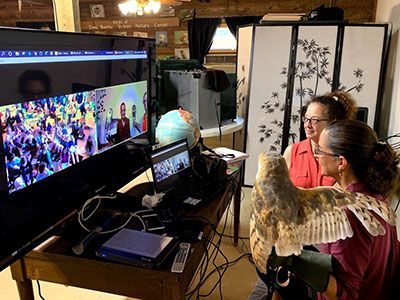 Reference materials about owls.

Great Horned Owls at the Rogers' Place, Charlo, Montana.

Artic Snowy Owl nesting cam, Barrow Alaska.

Barred Owls: Cornell Lab and Wild Birds Unlimited, Indianapolis, IN.
---
Life in the Forest
This program focuses on trees. Elementary-aged students will learn about the different parts of a tree and how trees aide in the survival of animals. They will also get to meet some native Texas animals who rely on trees.
---
Hoot! Tweet! Chirp!
Objective: This program is geared toward the pre-K to 1st grade children. Its primary objective is to introduce kids to the basics of bird characteristics and why birds are important to us and our world.
General Information: Birds have many characteristics that are similar to other animals, but there is one feature that no other animal has, and that is feathers. We introduce this program through a fun song, followed by a short PowerPoint presentation, and ending with live educational birds.
---
Spring Fling and Sing
This program is about bird songs and is aimed toward seniors but can be enjoyed by anyone.