Eubanks Woods Bird Sanctuary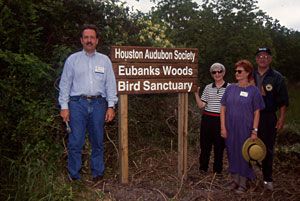 Ted and Virginia Eubanks at dedication ceremony
Visit Texas eBird to find out what's being reported.
Eubank Woods is an eBird hotspot.
Purchased by Houston Audubon with funds from the National Fish and Wildlife Foundation, this 9.5-acre sanctuary of woods and wetlands was named in honor of Ted Eubanks, a past president of the Houston Audubon Society who was instrumental in starting Houston Audubon's High Island sanctuary system. It is open to the public sunrise to sunset year round.