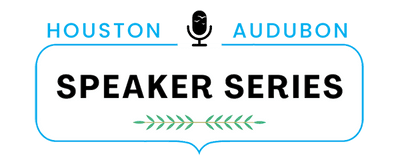 Speaker programs are held three times a year, in September, January, and May. 
Last Event: Partners in Conservation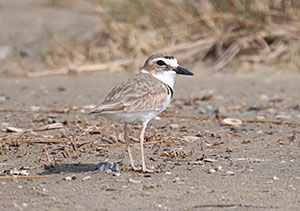 Wilson's Plover at Bolivar Flats
May 18, 2023
5-6 PM: AviChat Lite
6-6:30 PM: Networking and Refreshments
6:30-7:30 PM: Featured Speaker
United Way of Greater Houston
50 Waugh Drive, Houston, TX 77007
Join Houston Audubon and some of our regional partners in a conversation about local conservation. Starting with AviChat "Lite," we'll hear from the International Crane Foundation, Galveston Bay Foundation, Gulf Coast Bird Observatory, and Harris County Public Health. The evening keynote will be delivered by Kristen Vale, Texas Coastal Program Coordinator for American Bird Conservancy. Join us for some or all of the events to learn more about bird conservation efforts on the Texas coast!
AviChat Lite
AviChat Lite is a sampling of our annual series of short, informal talks by conservation partners to engage the community in conversations about bird conservation in our region. This event is presented by our Young Professional Advisory Council (YPAC). 
A Year in the Life of the Whooping Crane – Carter Crouch, International Crane Foundation

Carter Crouch is the Director of the Gulf Coast Programs for the International Crane Foundation. He obtained his Bachelor of Science in Zoology from the University of Oklahoma in 2011. He completed a Master's in Range and Wildlife Management and a Ph.D. in Wildlife Science from Texas A&M University-Kingsville in 2014 and 2017. After graduate school, he worked for the Burns Paiute Tribe Natural Resources Department in eastern Oregon as the Wildlife Biologist and then as the Wildlife Program Manager. He started working with the International Crane Foundation in May 2022. Most of his work has involved research on various avian species or research on habitat management.

Eastern Black Rail: Conserving habitat for a mysterious marsh bird – Suzanne Simpson, Galveston Bay Foundation

Suzanne Simpson is an ecologist responsible for accelerating the scope and pace of land conservation in the lower Galveston Bay watershed. Her passion for conservation was ignited by a lifelong fascination with reptiles and amphibians, which is evident in her menagerie of critters. She received a B.S. in Biology from Texas A&M University and an M.S. in Interdisciplinary Ecology from the University of Florida, and she maintains a certification as a professional Ecologist with the Ecological Society of America. Suzanne has spent most of her career in the land trust world, focusing on preserving and maintaining the lands and waters that provide for our communities. When not outdoors for GBF work, Suzanne finds another excuse to step outside, including camping, backpacking, and enjoying extended walks with her dog, Hyla.

Bird Conservationists Addressing Trash Pollution – Celeste Silling, Gulf Coast Bird Observatory

Celeste Silling was born and raised in Albuquerque, New Mexico. She attended Lawrence University in Wisconsin and received her Bachelor's degree in Biology in 2016. Focusing on her passions of conservation and education, she has had a variety of research and education jobs and is now the Director of Education and Outreach at Gulf Coast Bird Observatory (GCBO). She is one of the founders of SPLASh (Stopping Plastics and Litter Along Shorelines).

Monitoring arboviruses in resident and migrant birds - Elise Nishikawa and Stephanie Turnstone, Harris County Public Health

Stephanie has a BS in zoology from Texas A&M University. She has done field research with Golden-cheeked warblers and Black-capped vireos, and has worked with captive birds as a zookeeper. She has been banding birds with Harris County since 2020. 
Speaker Presentation: Beach-nesting Bird and Nonbreeding Bird Conservation on the Upper Texas Coast

Kristen Vale, American Bird Conservancy
Coastal bird conservation is becoming increasingly more important as recreation and development continue to grow on the Texas coast. Our beaches are important for coastal birds year-round and the added pressures put the remaining pockets of suitable habitat at risk. We will share 10 years of beach-nesting conservation work we have accomplished with partners, with emphasis on the Upper Texas Coast, as well as other conservation efforts for nonbreeding birds.
About the Speaker
Kristen Vale is the Texas Coastal Program Coordinator for American Bird Conservancy (ABC). She has studied shorebird ecology on Galveston Island since 2012 and her thesis work focused on the distribution of Piping Plover on the Upper Texas Coast. At ABC, Kristen helps coordinate protection, monitoring, and outreach of imperiled beach-nesting bird and nonbreeding bird species along the Texas coast. She also assisted with getting Galveston designated a Bird City Texas community and works with partners on initiatives that help make all of Galveston a safe place for birds.