Award-Winning Volunteers
The Laura Singleton Exceptional Volunteer Award is an annual tribute and memorial to Laura Singleton, a long-time Houston Audubon volunteer who passed away in 2002. A memorial service held at Edith L. Moore Nature Sanctuary brought hundreds of her Audubon friends to the sanctuary to honor her memory. Houston Audubon President Jeff Mundy announced at that service that a volunteer excellence award would be established in Laura's honor
The criteria for the award mirrors what Laura herself represented - the best of volunteerism. Laura was collaborative, inclusive and flexible in getting people to work together. She never hesitated to ask others to help, and because she approached everyone with enthusiasm and good humor, people responded in kind. Although she could see the obstacles, she typically proceeded without hesitation to think up seven or eight ways to overcome them. She is still greatly missed by all of us at Houston Audubon, and we take great pleasure in honoring her.
Doris Heard - Laura Singleton Exceptional Volunteer for 2018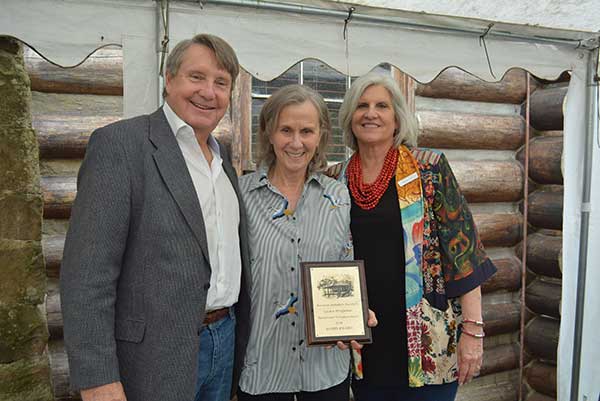 Tim White, Doris Heard, Juanita Perkins
Presentation by Volunteer Coordinator Juanita Perkins at the Volunteer Appreciation Picnic, February 16, 2019
Doris Heard has been an active member of the Houston Audubon Board of Directors since 2013. She accepted the position a bit reluctantly … when asked to join, she first said "No, she didn't like meetings". Fortunately for us, she eventually accepted the board position and Doris has done so much more for Houston Audubon than just attend meetings!
She's been particularly busy this past year serving as a gala co-chair, actively participating in bird surveys and environmental education programs, and being an active member of the Bird-Friendly Communities Committee. 
To quote from one of the nominators:
Doris is a trusted friend and colleague. She is soft-spoken, yet tough. She has spent decades working on wildlife habitat improvements, and she willingly shares her expertise with that humble Doris style and smile. 
Doris is both wonderfully kind and fiercely committed. She has a vision for Houston where birds are abundant and where children can delight in nature as a regular part of their days. What really makes Doris stand out, though, is that her vision is matched with real time spent accomplishing challenging objectives that have significant results. Whether it is coordinating planting days, identifying new volunteers, designing and sharing beautiful printed resources, filming videos to educate and inspire, or even providing encouraging words at the end of a hard day, Doris understands the multi-faceted challenges and opportunities of our urban greenspace and works actively to address them.
Doris worked relentlessly for the Birds, Bugs and Blooms gala this past year, serving as co-chair, attending more than a few of those dreaded meetings, signing hundreds of letters with special notes encouraging people to attend, and designing 30 original breath-taking centerpieces that took months of hard work, including driving all around the city until she found just the right twig or bloom or blade of grass so that she could arrange the right combination of birds and bugs on branches - the results were truly beautiful!
Someone who worked closely with Doris on the gala had this to say:
Doris went all out for Houston Audubon to help make the gala a success. And she did it with a smile on her face and optimism in her heart. She is always humble and will perform any task needed to make a project successful. She is always advocating for Houston Audubon, even to other groups that she is involved in, and truly has our mission in her heart. 
And, humorously, one nominator submitted: it should also be mentioned that Doris makes the most delicious brownies from scratch.
For all of the reasons above, including the brownies, it was certainly our honor to recognize Doris Heard as the 2018 Laura Singleton Exceptional volunteer recipient.
Laura Singleton Exceptional Volunteers
2012Judy Boyce and Martha Wright

2011Jim Winn and Jennifer Lezak

2010Sara Bettencourt and Pam Smolen

2009Joy Hester and Don Verser

2008Hurricane Ike Cleanup Volunteers

2007Barbara Tilton and Aaron Stoley

2004Susan and Brad Billetdeaux, Don Gray

2003Peggy Boston and Betty Keith

2002Marjie Pierce and John Miers