Laura Singleton Exceptional Volunteers
The Laura Singleton Exceptional Volunteer Award is an annual tribute and memorial to Laura Singleton, a long-time Houston Audubon volunteer who passed away in 2002. A memorial service held at Edith L. Moore Nature Sanctuary brought hundreds of her Audubon friends to the sanctuary to honor her memory. HAS President Jeff Mundy announced at that service that a volunteer excellence award would be established in Laura's honor
The criteria for the award mirror what Laura herself represented - the best of volunteerism. Laura was collaborative, inclusive and flexible in getting people to work together. She never hesitated to ask others to help, and because she approached everyone with enthusiasm and good humor, people responded in kind. Although she could see the obstacles, she typically proceeded without hesitation to think up seven or eight ways to overcome them. She is still greatly missed by all of us at Houston Audubon, and we take great pleasure in honoring her.
Laura Singleton Exceptional Volunteer for 2016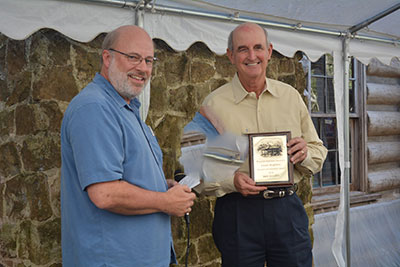 John Bartos, Ben Hulsey
Notes from Board President, John Bartos at the Volunteer Appreciation Party, February 18, 2017
I am pleased to announce that the recipient of the Laura Singleton Award for 2016 is Ben Hulsey.
Houston Audubon was indeed fortunate when Ben Hulsey discovered the wonderful world of birds nearly a decade ago.  His leadership skills as a Houston Audubon Board member and officer for the past eight years have been far reaching and his commitment to the success of the organization has been unwavering. 
 
Ben brought to the Board:  his leadership skills, his altruism, his generosity, his photography skills, his financial skills, his strong support for education and conservation, and his ability to engage and involve others in the Houston Audubon mission.  Some examples of Ben's contributions:
 
Ben has served for eight years on the Board of Directors of Houston Audubon. It has been two years as a Board member and six years as an officer, including two years as President.   
The Conservation Department was able to acquire  a truck as arranged and partially funded by Ben.  Also, after many years of waiting, an appropriate vehicle, the Birdmobile, was obtained for the Education Department by Ben.  Each of these vehicles is a significant aid to these departments. When we needed a boat to inspect our off-shore properties and conduct surveys on Evia Island Ben made that happen.  Our boat is named "the Mary Gwen."
Ben has regularly assisted with monthly bird surveys – Hermann Park, Archbishop Fiorenza, Hogg Bird Sanctuary, and Willow Waterhole. He assists in leading, identifying, counting, and in recording the species identified. At Hermann Park he has photographed every bird found in the park on a survey and posted it in the gallery on the Houston Audubon website. 
 
Ben also generously gives of his time to lead bird walks for other organizations Since he isn't intimidated by being with a gaggle of women, he has led quite a few walks for The Garden Club of Houston members, and as a result, has helped to expand the club's knowledge, activities and commitment to the conservation and preservation of birding habitat.  Many of these ladies regularly email photographs of birds that they see on their property, and he always graciously identifies the birds for them. Ben even managed to organize The Garden Club of Houston Birdathon team, "Hogg Heaven", that spent the day at Hogg Bird Sanctuary counting birds with him.   
Ben has a talent for recruiting and involving people who have become significant supporters of Houston Audubon.
 
Ben and Mary Gwen's philanthropic support is broad reaching. They have opened their home and hosted appreciation/information parties as well as hosting prospective members at their Gala table. They are also generous with the recently purchased house in High Island. 
He is currently serving on the Gala Committee and is an invaluable resource.  In fact, the past several years, Ben has made, arranged for and donated the framed photography awards Houston Audubon gives at its annual gala.
Ben is currently chairing the Committee for the Edith L. Moore Nature Sanctuary Master Plan, leading the efforts to carefully consider improvements to the property and the visitor experience.
Ben is not afraid to get his hands dirty either. He regularly participates at the High Island workdays.
These are just some of the things that Ben has done for Houston Audubon.  He often keeps a low profile and prefers being anonymous.  However, the time, energy, passion and resources that he has put into Houston Audubon is not unnoticed and is greatly appreciated.
Some years ago, several of us felt that Houston Audubon was primed to move to the next step in its life as an important environmental organization. Ben took that charge and ran with it and the results have been extraordinary. I have been honored and grateful to follow in Ben's footsteps as President. From all of us, thank you Ben. I am proud to present the Laura Singleton Award.
Laura Singleton Exceptional Volunteers
2012Judy Boyce and Martha Wright

2011Jim Winn and Jennifer Lezak

2010Sara Bettencourt and Pam Smolen

2009Joy Hester and Don Verser

2008Hurricane Ike Cleanup Volunteers

2007Barbara Tilton and Aaron Stoley

2004Susan and Brad Billetdeaux, Don Gray

2003Peggy Boston and Betty Keith

2002Marjie Pierce and John Miers