Laura Singleton Exceptional Volunteers
The Laura Singleton Exceptional Volunteer Award is an annual tribute and memorial to Laura Singleton, a long-time Houston Audubon volunteer who passed away in 2002. A memorial service held at Edith L. Moore Nature Sanctuary brought hundreds of her Audubon friends to the sanctuary to honor her memory. Houston Audubon President Jeff Mundy announced at that service that a volunteer excellence award would be established in Laura's honor
The criteria for the award mirrors what Laura herself represented - the best of volunteerism. Laura was collaborative, inclusive and flexible in getting people to work together. She never hesitated to ask others to help, and because she approached everyone with enthusiasm and good humor, people responded in kind. Although she could see the obstacles, she typically proceeded without hesitation to think up seven or eight ways to overcome them. She is still greatly missed by all of us at Houston Audubon, and we take great pleasure in honoring her.
Julie d'Ablaing - Laura Singleton Exceptional Volunteer for 2017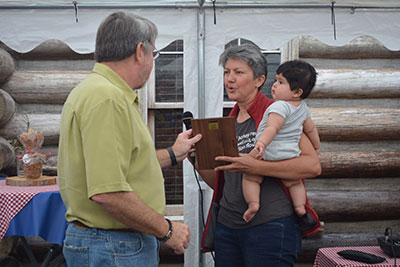 Tim White, Julie d'Ablaing
Presentation by Board President Tim White at the Volunteer Appreciation Picnic, February 17, 2018
Today, it gives us great pleasure to recognize this year's recipient - the person who is largely responsible for those 4,500 plants being sold from the Natives Nursery – Julie d'Ablaing.
Julie certainly embodied all of the criteria for the award.
In the past years, Julie has contributed a tremendous amount of time helping Houston Audubon grow the Natives Nursery. She has not only faithfully attended Friday workdays, but she has spent countless hours gathering seed, planning for growing out plants, emailing clients, and communicating with staff and volunteers
It is hard to capture how much it takes to talk to people about the plants in the Nursery. Julie is very knowledgeable about native plants and what it takes to grow them. Add in the layer of managing inventory in a nursery, and the conversations become more complex. When customers contacted Houston Audubon to place an order, Julie has the expertise and savvy to speak to them about what they ordered or what they might substitute. Julie developed meaningful partnerships with many people.
Julie was already active in the nursery when Flo Hannah became ill. It was obvious to all that Julie decided she could most support and honor Flo by keeping the Natives Nursery prosperous. She did much to figure out what that would take – collecting seed, planting, bumping up plants, watering, weeding, and more.   
Julie has marshaled the troops.She has led the Natives Nursery volunteers and they have responded. The mutual respect is obvious.
So, it is with great pleasure that we present this year's Laura Singleton Award to Julie d'Ablaing. From all of us, thank you, Julie!
Laura Singleton Exceptional Volunteers
2012Judy Boyce and Martha Wright

2011Jim Winn and Jennifer Lezak

2010Sara Bettencourt and Pam Smolen

2009Joy Hester and Don Verser

2008Hurricane Ike Cleanup Volunteers

2007Barbara Tilton and Aaron Stoley

2004Susan and Brad Billetdeaux, Don Gray

2003Peggy Boston and Betty Keith

2002Marjie Pierce and John Miers