Award-Winning Volunteers
Houston Audubon has a staff of less than 20 people and over 150 active volunteers, so to say that volunteers are important to our mission is an understatement. Houston Audubon relies on volunteers every day of the year to help us with education, restoration, administration and everything and anything you can imagine.
Each year we celebrate the contributions of these valued volunteers at a picnic at the Edith L. Moore log cabin. On top of recognizing the work of all volunteers collectively, each year we select one (and sometimes two) distinguished volunteers who went above and beyond to support our work in a way that stood out to staff and board members, who we honor with the Laura Singleton Exceptional Volunteer Award*.
JD Carballo - Laura Singleton Exceptional Volunteer for 2020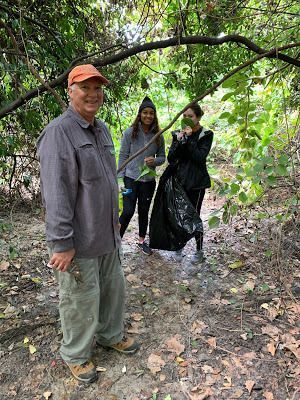 Houston Audubon announced the 2020 Laura Singleton Exceptional Volunteer at a virtual event celebrating our volunteers at the conclusion of National Volunteer Week. Our deserving honoree for 2020 is JD Carballo, volunteer maintenance technician at Edith L. Moore Nature Sanctuary. 
JD has been an active and frequent volunteer at Edith L. Moore since 2014. We chose to honor him because of the unique and wide-ranging projects he has taken on throughout the sanctuary, including showing up during times of crisis. Due to his close proximity to the sanctuary, JD sometimes arrived on site before staff to take care of any issues. He also helped us prepare the sanctuary for unprecedented issues, such as the pandemic and extreme weather events. He kept an eye on the sanctuary and made sure cameras were up and gates were secure when staff were working from home. JD's contributions went above and beyond, showing a true sense of ownership and pride in our sanctuary. 
Here are some things those who have worked with JD had to say about him:
"JD has distinguished himself as knowledgeable and generous, a combination that makes the never-ending work of sanctuary management possible. Whether it's gates, cameras, switches, HVAC, irrigation, you name it - he has fixed it twice. Plus, he is passionate about getting to the source of a recurring issues, be they mechanical or people-driven challenges. He does all of this with no ego or expectation. JD is a joy to work with." -Richard Gibbons, Conservation Director 
 "He helped with everything. Bridge designs, Harvey recovery, cabin maintenance, invasive species removal, repairs in the office, animal enclosure fixes! Everything! I called him our MacGyver!" -Bethany Fosheé, former Edith L. Moore Sanctuary Manager 
 "Often JD tackles projects without us knowing. He simply sees things and fixes them. Then follows up with a detailed explanation of what he found and what he did, usually starting with 'I was thinking about this last night and had this part in my garage.' He replaced a leaky valve in the water fountain, replaced GFCI outlets, and cleared debris from the creek as needed. All in a day's work – or volunteerism. Always ready with a smile and full of good humor, it is a delight to run into JD in the sanctuary and find out what he is up to." -Rachel Schipul, Operations Manager 
Congratulations JD, and thank you to all of the volunteers that make it possible for us to achieve our mission!
*Laura Singleton
The Laura Singleton Exceptional Volunteer Award is an annual tribute and memorial to Laura Singleton, a long-time Houston Audubon volunteer who passed away in 2002. The criteria for the award mirrors what Laura herself represented - the best of volunteerism. Laura was collaborative, inclusive and flexible in getting people to work together. She never hesitated to ask others to help, and because she approached everyone with enthusiasm and good humor, people responded in kind. Although she could see the obstacles, she typically proceeded without hesitation to think up seven or eight ways to overcome them. She is still greatly missed by all of us at Houston Audubon, and we take great pleasure in honoring her and other exceptional volunteers each year.
Laura Singleton Exceptional Volunteers
2019Karen Hoffman and Lester Pearce

2012Judy Boyce and Martha Wright

2011Jim Winn and Jennifer Lezak

2010Sara Bettencourt and Pam Smolen

2009Joy Hester and Don Verser

2008Hurricane Ike Cleanup Volunteers

2007Barbara Tilton and Aaron Stoley

2004Susan and Brad Billetdeaux, Don Gray

2003Peggy Boston and Betty Keith

2002Marjie Pierce and John Miers