Time to order your new Houston Audubon conservation license plate!
We're excited to announce the launch of our new conservation license plate, featuring an Eastern Meadowlark! The license plate is sponsored by Texas Parks and Wildlife Department and can be purchased through the Texas Department of Motor Vehicles (TxDMV).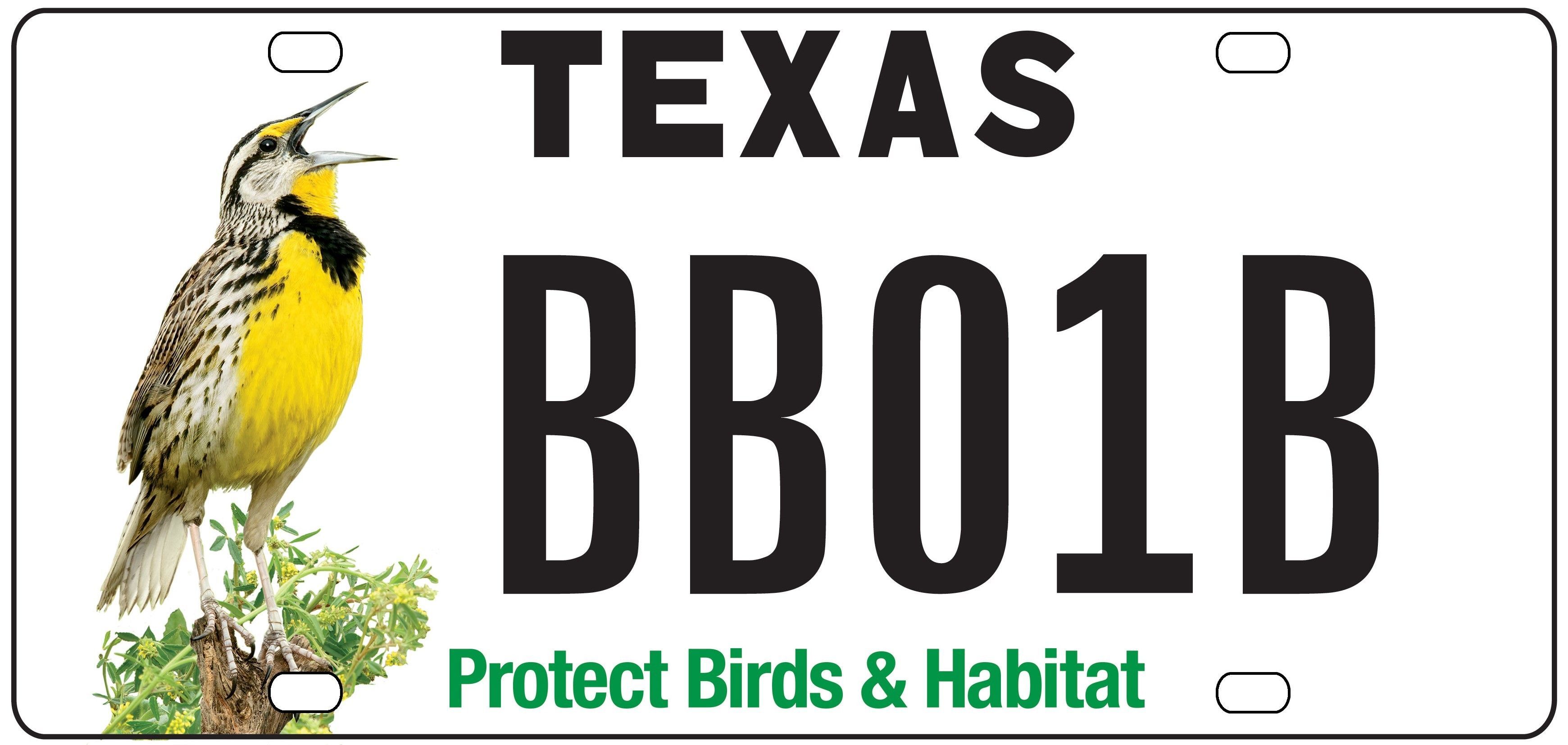 The Eastern Meadowlark, an iconic prairie species commonly found throughout Texas, was chosen by a committee of bird enthusiasts because this species needs conservation action and the habitat is one that Houston Audubon is deeply committed to restoring. We believe this bird and tagline, "Protect Birds and Habitat" will have broad appeal to many birding, nature, and conservation enthusiasts across the great state of Texas.
The Eastern Meadowlark is shown standing tall and belting out its melodious song and was inspired by Alan Murphy's photograph from a sighting in Galveston, Texas.
We hope you will consider ordering this non-profit conservation license plate for your car. For each license plate, $22 of the annual $30 fee comes to Houston Audubon. Funds raised from the sale of these plates will go to Houston Audubon's bird conservation efforts, and the plates serve as a wonderful outreach and education tool to raise awareness about the importance of protecting birds and their habitat. 
Blog Post: Join in on the fun and help spread the word! What Folks are Saying about the New Houston Audubon Conservation License Plate
---
A special thank you to our lead sponsors, Heather and Bob Westendarp, and to our supporting sponsors Joni Shereda and Brian McKenna, and Don Quaintance. We gratefully appreciate Don Quaintance for his graphic design work and Alan Murphy for his inspirational bird photography.
If you have questions, please contact Julie Gold, Corporate Relations Director, at jgold@houstonaudubon.org or 281- 888-1768.