Natives Nursery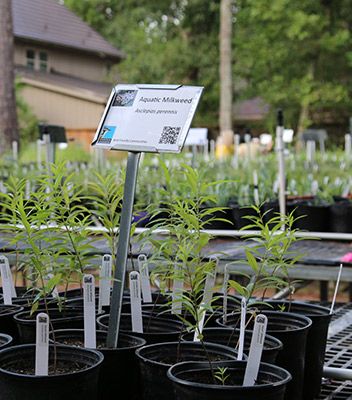 The nursery itself remains closed to the public. Plants can still be purchased online in our web store with curbside pick-up on Friday mornings from 8 – 11 AM at the Edith L. Moore Nature Sanctuary. You will pull into the Wilchester parking lot for pick-ups and we will bring your order directly to your car. We cannot make any exceptions to this process. These measures will continue to ensure social distancing for your safety as well as for our staff and volunteers.
Please Note: Our plants are all "real-deal" native plants and may look different than the picture. We will do our best to give you the best possible plants available, but we won't have the ability to swap plants out at pick-up or accept returns. Purchasers will not be able to pick their individual plants. All plant sales are final. When purchasing, items in your cart are not held until you complete check out. If you have any questions, please feel free to email Berri Moffett at bmoffett@houstonaudubon.org.
Resources include species lists, price lists, tips on making your yard bird-friendly, and more!
Houston Audubon's Natives Nursery at the Edith L. Moore Nature Sanctuary specializes in local native prairie grasses and wildflowers. The plants sold are grown only from seed collected in coastal prairie remnants in Harris or surrounding counties. These seeds were collected and planted by the hands of dedicated Houston Audubon staff and volunteers. The Natives Nursery fills a unique niche by offering native plants not readily found elsewhere.
---