Clint and Mary Frances Morse Field Station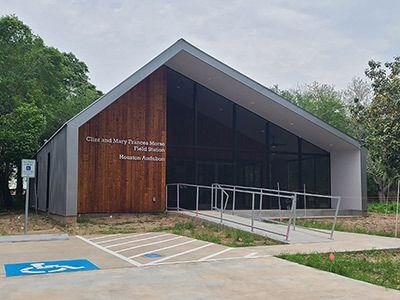 The new field station serves as coastal headquarters for the staff and volunteers at High Island and provides facilities for visiting researchers, meetings, workshops, and educational programs. Visitors are encouraged to spend time relaxing on the screened-in porch with a great view of the Barn Yard. We are looking forward to expanding our conservation footprint.
Space is available at the field station to conduct research and for other activities.  Contact us at info@houstonaudubon.org for more information.
Address
2089 5th Street
PO Box 111
High Island TX 77627
History of the Morse Field Station
The Clint and Mary Frances Morse Field Station in High Island is the culmination of a dream which started over 10 years ago with the purchase of the old "Tropical Birding House" across the street from Boy Scout Woods Sanctuary. While it was an experiment having full-time dedicated staff to manage Houston Audubon's coastal sanctuaries, the impact proved to be invaluable. However, it was quickly realized that to maintain that impact and increase our footprint we needed to expand our infrastructure.

The "Tropical Birding House" had served us well but was in a state of disrepair. Thanks to the architects at Schaum/Shieh, SWA Group, and the generosity of donors including a lead donation from Sara and Mark Bettencourt, we were thrilled to have the Morse Field Station in service for its inaugural Spring season! A ribbon-cutting ceremony took place on March 25, 2023.