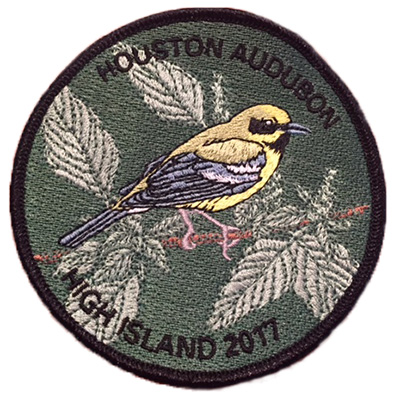 The 2017 High Island patch, featuring a Lawrence's Warbler, is now available. You can order online (see link above) or purchase it at our headquarters at Edith L. Moore Nature Sanctuary.
We are indebted once again for the wonderful artwork provided by Linda Feltner for the design of this year's patch.
Limited numbers of patches from previous years are available for purchase by contacting our office at 713-932-1639.
Are you wondering what to do with your old High Island patch? Return them to Houston Audubon - we'll put them to good use! We particularly need patches for the years 1989 and 1990.
The Story of the Patch
This is a story about many dedicated volunteers at Houston Audubon who have given generously of their time and talent to support our mission. The idea of creating a patch developed after Houston Audubon bought its first High Island sanctuary, Boy Scout Woods, in 1983. Early visitors to the sanctuary were encouraged by volunteer Bessie Cornelius to give a donation each time they entered the sanctuary in order to help pay off the mortgage on the property and generate funds for maintenance. Then in 1989 the first High Island patch was created and sold as an annual pass to all of the High Island sanctuaries. The Hooded Warbler was featured on that first patch, a true trans-Gulf migrant and harbinger of spring migration.
Linda Feltner, an interpretive wildlife artist and book illustrator, with the help of her husband Ben has generously donated the designs for several High Island warbler patches. Board member Judy Boyce created the 1997 Black-throated Blue and the 2000 Yellow Warbler patches, and Caroline Callery, Gail Yaranovich, and Evelyn Shelton have also provided patch designs for us. The help of all of these artists has been invaluable.
Our patch travels around the world before arriving at High Island. It begins with the designer, currently Linda Feltner in Arizona, who starts with a pen-and-ink drawing. Thread and paint colors are then matched to the design, then shipped by computer to a printing company in Boerne, Texas. From there the file is communicated to Germany for use in an embroidery machine in China, where the patches are made. Finally, they arrive in Houston at our office.
Selling the patches is a major operation as well. Our wonderful volunteers handle patch, day pass as well as retail sales. They return every year to move items in and out of cabinets daily and display them on tables for the many visitors who buy them as a memento of their trip.
Our success as an organization is due to these wonderful people and others like them who have given us years of loyal support. Why do they do it? Because it's fun and rewarding, because they love sharing the birds with our visitors, and because they see what a difference Houston Audubon has made - for the birds.