Sanctuary Walks
Coastal Bird and Nature Walks
High Island and Bolivar Peninsula Spring Birding Walks & Outings
Birding Walks & Outings: The Tropical Birding guides will lead 3 free bird walks a day, 5 days a week (every day except Tuesday and Wednesday) in our High Island sanctuaries and surrounding hotspots. The walks begin on Thursday, April 4 and end on Monday, April 29. No preregistration is required. The 8:30 AM walk is at Boy Scout Woods. The Noon shorebird walk meets at the gate for Boy Scout Woods and visits various sites for shorebirds and other coastal birds. The 4:00 walk starts at the Old Mexico Rd parking lot at Smith Oaks and searches for warblers in the woods followed by a quick circuit of the Rookery. They post reports about their walks on their Birding High Island website.
Photography Walks & Outings: The Tropical Birding guides will also offer free photography walks and outings, 5 days a week. The walks begin on Thursday, April 4 and end on Monday, April 29. No preregistration is required. Tropical Birding will alternate days between Smith Oaks Rookery (Thursday, Saturday, and Monday) and Bolivar Peninsula (Friday and Sunday). For the Rookery walks, meet at the Old Mexico Rd. parking lot at 4 PM. The Bolivar Bird Photography Outing will meet in front of Boy Scout Woods at 3 PM and then continue on to waterbird sites along the Bolivar Peninsula via personal vehicles. Carpooling is encouraged. Tropical Birding has secured a partnership with Olympus Cameras to provide field testing of their bird photography camera setups. Visitors will be able to try out the next generation of lighter, faster, smarter cameras.
---
Information about Bolivar Flats and map & directions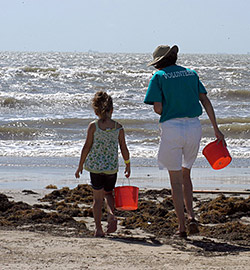 Walking on Bolivar Flats
Bolivar Beach Rambles
Come explore Bolivar Flats Shorebird Sanctuary and see what the forces of nature have left for us on the beach and in the wrack lines with Sanctuaries Manager Pete Deichmann. You'll walk along the beach and out onto the flats discovering the diversity of life along the gulf coast. It's a perfect opportunity for a family day trip. Ride the Galveston ferry, see dolphins, birds, shellfish and learn about coastal ecosystems. This program is FREE, suitable for all ages and runs on the first Saturday of each month. No preregistration required. We meet at 10:00 AM at the vehicular barrier. Take TX-87 to Rettilon Rd. Turn right at the beach and travel 3/4 mile. Hope to see you there!
Parking: Parking stickers are REQUIRED for all vehicles to park on Bolivar beaches. They can be purchased locally for $10. A list of vendors can be found above.
---
Edith Moore Nature Sanctuary
Description and map showing parking

4th Saturday Bird Walks
Join us for a free bird walk at Edith L. Moore Nature Sanctuary, September through May on the 4th Saturday of the month. Bird walks last 1 hour. Birders can arrive and leave as their schedules require. Novices are welcome! Please note that in November and December, we'll meet on the third Saturday.
Meet at the Edith Moore Cabin at 8:00 AM.
Park at the Memorial Methodist Church Lot (12995 Memorial) on the eastern boundary of the sanctuary.
Leader: Paul Fagala of Wild Birds Unlimited (14032 Memorial Drive).