About Bolivar Flats Shorebird Sanctuary
All Houston Audubon sanctuaries are closed to the public. This does not include Bolivar Flats Shorebird Sanctuary, which is monitored by government officials. The stay home orders mandated by Harris and Galveston counties require the sanctuaries to remain closed at least through April 30, 2020. Please check back for updates.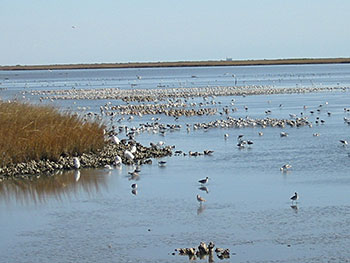 International Recognition
Bolivar Flats is a Globally Important Bird Area, the highest designation, and an International site in the Western Hemisphere Shorebird Reserve Network.
It's For the Birds
People are encouraged to walk along the beach and enjoy watching the birds and other wildlife that is protected here. Observe wildlife from a distance at which they feel comfortable. Walking in vegetated dunes and marshes is discouraged. These areas contain hidden nests and venomous snakes. The vehicular barrier was erected to protect nesting and roosting birds, most of which live on the ground. In addition, vehicles compact the sand, killing the plants and animals that live there and making it more difficult for birds to find food and cover. Regulations also prohibit fires in the sanctuary.