Virtual Field Trips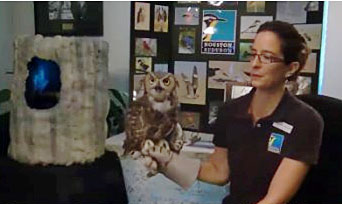 Mary Anne and Tskili, a Great Horned Owl, during a virtual field trip
Houston is now able to offer virtual field trips to Sims Bayou Urban Nature Center through LifeSize, a subsidiary of Logitech. Since their inception in 2003, LifeSize has focused on their mission to further enable human interaction, regardless of distance. LifeSize is a pioneer and world leader in high-definition video collaboration. Using video equipment provided by LifeSize at Sims Bayou Urban Nature Center, the Education Department can schedule and deliver virtual field trips on a regular basis.
Imagine the flyways and corridors that birds migrate across and then imagine being able to communicate and educate students of all ages across those flyways. That is exactly what live virtual field trips are bringing to Houston Audubon. Within a few days of posting our educational programs on a national content provider website, we had requests from Dumas; Schuyler, Nebraska; Braham, Minnesota; and Billings, Montana!
For more information about our programs please visit the website of our contact provider host and search for "Houston Audubon". For more information please contact Mary Anne Weber (713-640-2407).
Resources
Resource material for the virtual owl program

Search for "Houston Audubon"