Bird Tales
Programs for Senior Communities
Houston Audubon offers a variety of programs tailored for senior communities. Please contact Mary Anne Morris at mamorris@houstonaudubon.org for more information.
---
Helping Dementia Patients through Bird Tales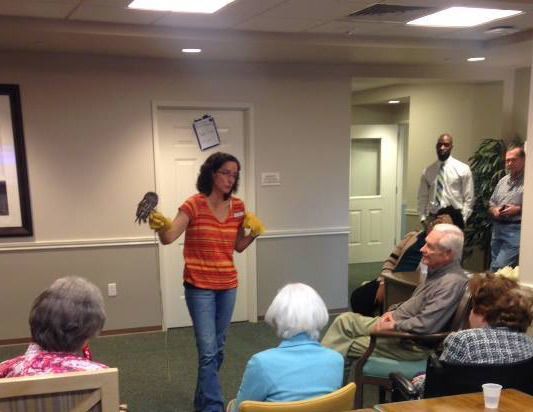 Mary Anne Weber presenting at Belmont Village Senior Living
Bird Tales, a National Audubon initiative, is a dynamic, unique, and low-cost therapeutic program that brings the natural outdoor world of birds to people living with dementia. With skillfully designed programming, trained volunteers, and lots of enthusiasm, Bird Tales engages people with dementia and connects them to the outdoors and birds like never before.
Bird Tales uses multisensory stimulation and the outdoor world of birds to help people living with dementia share a meaningful experience with others while also providing local and migratory bird populations with newly improved habitats. Houston Audubon joined forces with Ken Elkins at Connecticut Audubon on a Toyota Green grant to expand Bird Tales from the Atlantic Flyway to the Central Flyway. Rocky Mountain Bird Observatory is also a partner in the expansion of the program. Bird Tales not only brings the sights and sounds of birds into a dementia care facility, it teaches and instructs facility managers how to improve exterior habitat for birds with native plants and feeding stations. This instruction spills over to employees and family members as they witness their loved one enjoy birds at feeders, native plants, and water features.
John Burroughs wrote "How beautifully leaves grow old. How full of light and color are their last days". For the last 14 years, Houston Audubon has been privileged to have the opportunity to take the mission of bird conservation to both the young, the old, and every age in between. School children at all grade levels thrill to meet the live birds but so do senior populations living in retirement communities, assisted living facilities, hospitals, and dementia care facilities. There are over 5.2 million people in the United States living with Alzheimer's disease, and it is now the 6th leading cause of death. Environmental psychologist Kathleen Wolf at the University of Washington has gathered more than 1,800 research papers that show that green spaces in cities can provide a number of benefits, including revitalizing a person physically, psychologically, and socially. In the words of Abraham Lincoln: "And in the end, it's not the years in your life that count. It's the life in your years."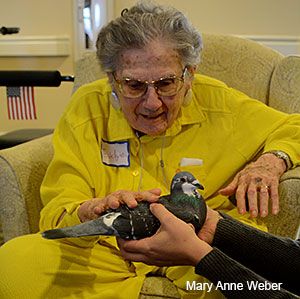 Bird Tales January Workshop
---
Join Us!
Houston Audubon would love to have you join us and volunteer to help a facility launch a Bird Tales program. Contact Mary Anne Weber at maweber@houstonaudubon.org if you are interested.