Horseshoe Marsh Bird Sanctuary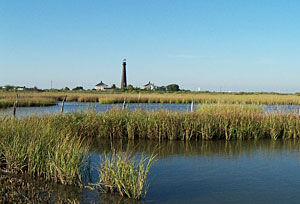 Visit Texas eBird to find out what's being reported.
Horseshoe Marsh Bird Sanctuary is an eBird Hot Spot.
This 650-acre wetland complex, located near the Bolivar ferry landing adjacent to the historic Bolivar lighthouse, includes salt marsh and wet coastal prairie surrounding a shallow tidal lagoon. It is critical habitat for large numbers of shorebirds, waders, and ducks including Roseate Spoonbills, Oystercatchers, Long-billed Curlews, Seaside Sparrows and Clapper Rails, among others.
In addition to the value of this area as bird habitat, there is a significant contribution to the local economy by the thousands of birdwatchers from all over the world who visit the area each year. The Horseshoe Marsh's productive wetlands also provide food for large numbers of fish and other sea life which provide recreational opportunities for fishermen who catch Redfish, Speckled Trout and Flounder and for families who come to catch Blue Crabs. Houston Audubon has been working to protect wetland habitat on the Bolivar Peninsula since the early 1980's and acquired its first tract in Port Bolivar in 1997.
History
The purchase of Horseshoe Marsh took two years to complete. It was a complicated purchase by Houston Audubon of 4,126 lots through the bankruptcy court in 2003. The acquisition was made with a grant from the USFWS North American Wetlands Council and donations from Houston Audubon members and birders around the country. Over 1,000 donations were received from donors in 39 states.