Yaupon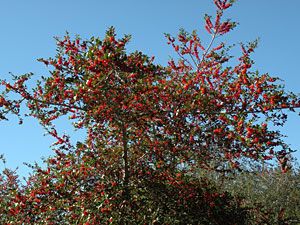 Ilex vomitoria
Family: Holly (Aquifoliaceae)
Habitat: Coastal Plains
Height: 12-45 ft.
Bloom Period: February - March
Description: (by Don Gray) Yaupon is truly a plant for all seasons. In winter the overripe, frequently fermenting berries are ravenously devoured by vociferous flocks of sometimes drunken American Robins and Cedar Waxwings. As spring progresses, the yaupons teem with the small green larvae of the Brown Elfin butterfly and the Black-dotted Ruddy moth (producer of the infamous "holly looper"). These larvae present a smorgasbord of dainties for homesteading wrens and spring migrant warblers, yet enough survive to ensure equally bountiful fare the following year. In summer the plant's dense foliage provides cover for nesting wood thrushes, cardinals, and mockingbirds. What more could a small bird ask? A plant that offers fruit for the vegans and meat for the insectivores and year round dense foliage to shelter tired travelers or conceal nests of natives.
Propagation Tips: Evergreen. Plants form thickets. Only female plants have berries.