Turk's Cap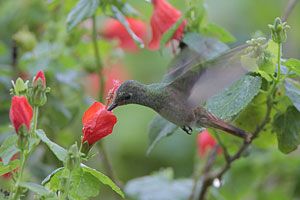 Turk's Cap and Buff-bellied Hummingbird
Malvaviscus arborea
Alternate Names: Wax mallow, Bleeding hearts
Family: Mallow (Malvaceae)
Habitat: Woodlands, moist prairies
Height: 3-4 ft. (taller if given support)
Bloom Period: June - September
Description: Turk's Cap is a beautiful native plant for the garden. Leaves are heart-shaped and covered with soft fuzz. The flowers, small scarlet turbans, are present for an exceptionally long season. Moist soil and partial shade suit it well. Plants are sprawling in nature unless pruned. They will happily grow to be quite tall if given support or can climb up other plants such as wax myrtle or yaupon. Hummingbirds, in particular, are very attracted to Turk's Cap when it grows tall, and they are safer from predators.
The Wildlife Connection: Turk's Cap is a wonderful plant for wildlife. Hummingbirds love the flowers, and many birds and other wildlife its fruit. The seeds are encased in bright red fruit-like capsules.
Propagation Tips: Reseeds on its own. Look for seedlings underneath established plants. Seedlings may be easily transplanted. Older plants are difficult to move.