Sea Oats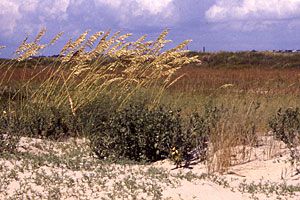 Uniola paniculata
Family: (Poaceae) Grasses
Habitat: Beach sands
Height: up to 6 ft.
Bloom Period: April - August
Description: Sea oats are conspicuous and showy on Bolivar beaches. Sea oats are well suited to beaches, and are important in soil stabilization projects because their long root structure firmly holds loose soil. They grow from underground stems to form long colonies. Plants grow well in full or partial sun.
The Wildlife Connection: Colonies are important for nests and shelter. Seeds important food source for birds and small mammals.
Propagation Tips: Can be difficult to propagate. Plants available commercially.