Saltmarsh Mallow
Kosteletzkya virginica
Alternate Names: Seashore mallow, Wild hollyhock
Family: (Malvaceae) Mallow
Habitat: Marshes, ditches
Height: 3-6 ft.
Bloom Period: June - November
Description: Shrub-like perennial (usually lives about 5 years). Requires sun, sandy soil, and moisture to perform best. Grows well in shallow standing water.
The Wildlife Connection: Attractive to hummingbirds, bees, and butterflies.
Propagation Tips: Reseeds on its own. Young plants may be transplanted.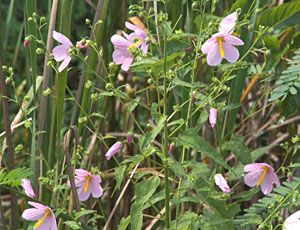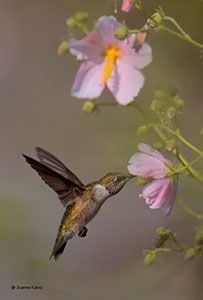 Ruby-throated Hummingbird (immature male) on Saltmarsh Mallow