Rattlesnake Master
Eryngium yuccifolium
Alternate Names: Button snakeroot, Button eryngo
Family: (Apiaceae) Parsley
Habitat: Moist prairies
Height: 2-3 ft.
Bloom Period: May - August
The Wildlife Connection: Larval host plant for the black swallowtail butterfly.
Description: Perennial with spiny leaves. The leaves are very distinctive and yucca-like.
From USDA/NRCS Plant Fact Sheet: Rattlesnake master is an indicator species of a high quality coastal prairie remnant on the Upper Texas Coast. Rattlesnake master stands out on a prairie or in a garden with its unique yucca-shaped leaves and 2" round flowerheads made up of many small flowers. It adds interest to a landscaping, provides good wildlife cover and attracts a huge diversity of insects. It is a warm season perennial that grows to 6' tall on wet or dry mesic prairies. Whitish bracts stick out sharply from the flowers, giving the flower head a rough, prickly feel and appearance. The heads have a honey-like odor and are in bloom June to September. The root of rattlesnake master has been used medicinally by American Indians and pioneers.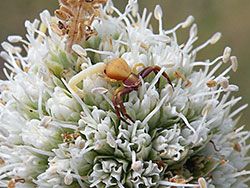 Whitebanded Crab Spider on Rattlesnake Master bloom, Nash Prairie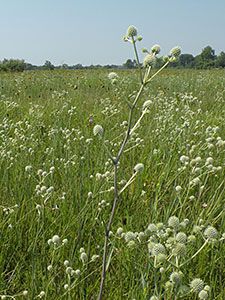 Rattlesnake Master at Deer Park Prairie