Pokeweed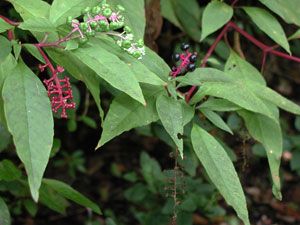 Phytolacca americana
Alternate Names: Pokeberry, Poke
Family: (Phytolaccaceae) Pokeweed
Habitat: Moist woodlands, roadsides.
Height: 4-10 feet
Bloom Period: July - October
Description: Perennial. Pokeweed grows from a thick taproot. The small white flowers are followed by dark purple berries. Plants quickly grow to be quite tall. Broad green leaves and bright red stalks make the plant easy to identify. Plants happily sprawl on surrounding plants.
Propagation Tips: Readily self seeds.
Caution: Almost all parts of pokeweed are poisonous when raw and can be fatal to humans. Although the fresh young shoots and berries are used in recipes, they must be carefully prepared.
The Wildlife Connection: The berries are relished by many species of birds. This plant has a very long bloom season and is an important food source.