Pickerel-Weed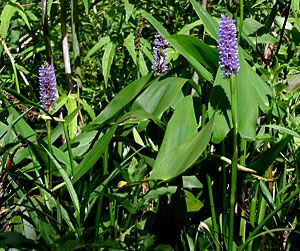 Pontederia cordata
Family: (Pontederiaceae) Pickerel Weed
Habitat: Aquatic
Height: 2-3 ft.
Bloom Period: June - September
Description: Perennial. Pickerel-weed is found on the edges of ponds, lakes and in ditches. It prefers shallow, quiet water. Leaves are spade-shaped and bright green. The flower spikes are about 6" tall.
The Wildlife Connection: Attracts hummingbirds. Seeds are eaten by waterbirds.