Live Oak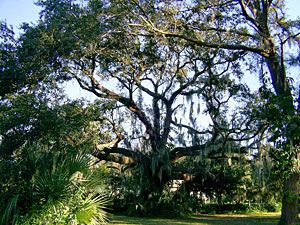 Quercus virginiana
Family: (Fagaceae) Beech
Habitat: Coastal plains
Height: 40-80 ft.
Bloom Period: April - May
Description: The iconic tree for the Gulf Coast, live oaks can achieve vast dimensions, up to 100 ft. in width. Although not a true evergreen, leaf loss is timed to occur just as new growth emerges, so the tree appears to be evergreen.
The Wildlife Connection: Acorns are an important food sources for many species of wildlife. Larval host to several butterflies and moths, including white hairstreak, northern hairstreak, and Horace's duskywing.