Gulf Cordgrass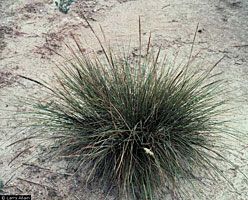 Spartina spartinae
Family: (Poaceae) Grasses
Habitat: Coastal flats and marshes
Height: 3-4 ft.
Bloom Period: June-October
Description: Perennial. Tolerates occasional standing water. Prefers wet, sandy soils but also grows in clay soils. Forms dense clumps, excellent for coastal restoration.
The Wildlife Connection: Provides nesting habitat and wildlife cover. Mottled Ducks use gulf cordgrass to nest.
Propagation Tips: Large clumps may be divided. Can be grown from seed, but propagation by division or transplanting is most successful.