Black-eyed Susan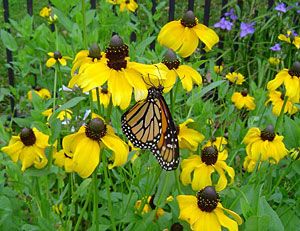 Black-eyed Susans with monarch butterfly
Rudbeckia hirta
Family: (Asteraceae) Sunflower
Habitat: Moist fields and prairies
Height: 1-3 ft
Bloom Period: June - October
Description: Annual to short-lived perennial. Black-eyed Susans like moist soil. They bloom well in sun and partial-shade. They are a very attractive garden plant where they provide masses of color for several months.
The Wildlife Connection: Excellent nectar source for butterflies and bees. The seeds are a great food source for sparrows, buntings, and other seed-eaters.
Propagation Tips: Plants reseed on their own.