Spring Break Family Camp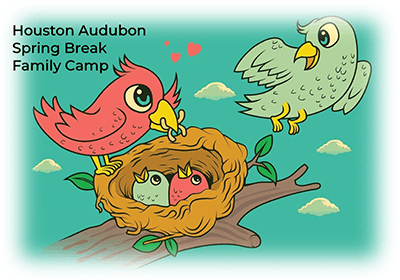 Join the staff naturalists at Houston Audubon for some great nature and birding adventures. Each trip will highlight a unique park and habitat in the area. Every family member will receive a blank journal and art supplies to start creating a momento of their memories. There will be time for hiking, birding, nature exploration, art, and much more. Fees cover costs of all supplies for each person 5 years old and up. The fee is $10 per person.
Our Tuesday trip will be to Kleb Woods Nature Preserve in Tomball. We will explore the historic homestead of Elmer Kleb and the many wonderful trails on the property. 

Our Wednesday trip will be to Lake Houston Wilderness Park in New Caney. There is an additional $3 per person charge at the park front gate for entry. This unique city of Houston park is massive with almost 5000 acres of pineywoods habitat and over 20 miles of trails. Get ready for some wonderful adventures!

Our Thursday trip will be to Archbishop Fiorenza Park Phase 2 in west Houston. Miles of trails and lakes await us as we discover the amazing birding available right in town.
Contact: Mary Anne Morris at mamorris@houstonaudubon.org.