Edith Moore Summer Camps
2017 Summer Camps
The list below is the tentative schedule and is subject to change. Registration opens at 10 AM on February 15 for Houston Audubon members at the family level and above. Email bfoshee@houstonaudubon.org to sign up for Summer Camp E-News.
Come Along Camp for Pre-Schoolers
"If a child is to keep his inborn sense of wonder, he needs the companionship of at least one adult who can share it, rediscovering with him the joy, excitement, and mystery of the world we live in." - Rachel Carson
Outdoor fun and nature adventure await your eager preschooler and a grown-up chaperone of their choice. Through crafts, forest walks, puppet shows, and story time, your youngest camper will learn about the natural world all around them. For ages 2 1/2 through 5. Fee: $75 per child ($65 sibling)
Camp Schedule: May 22-26, 2017, 10 AM - 11:30 AM  
Fee: $75 per child ($65 sibling)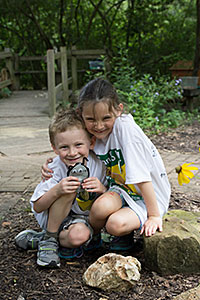 Nature Explorers Camp
Ages 5-10
"Keep close to Nature's heart... and break clear away, once in awhile, and climb a mountain or spend a week in the woods. Wash your spirit clean." — John Muir
Let the summer adventures begin! Exciting journeys await you as we discover the world of wildlife here in our own Bayou City. Hike the trails and play games in our forest's habitats! Make nature crafts and science projects to take home! Catch tadpoles and fish in the ponds! Meet our education animals! From creeks to peaks, ponds to fronds, and bogs to logs, we'll uncover the amazing habitats and animals here in our own backyards.
Fee: $150 per child ($140 sibling)
Camp Schedule: (5 identical weeks to choose from) 9 AM - Noon, Monday-Friday
Nature Explorers 1: June 5-9; Nature Explorers 2: June 12-16; Nature Explorers 3: June 19-23
Nature Explorers 4: June 26-30; Nature Explorers 5: July 3-7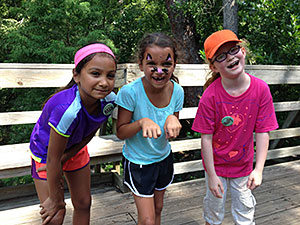 New! Potions, Predators & Poisons
Ages 5-10
Survival is the ultimate game on planet earth! From poison-secreting dart frogs and spraying skunks to diving peregrine falcons and toxic plant perfumes, we'll spend the week exploring the fascinating world of poisonous creatures, stealthy predators and nature's ultimate potions and powers of survival! We'll act out the lives of predator and prey in games. We'll make our own homemade plant potions. And we'll make creative artwork in honor of our planet's most colorful (& deadly) creatures!
Fee: $150 per child ($140 sibling)
Camp Schedule: July 10-14, 2017 9 AM - Noon, Monday-Friday.
Aquariums & Terrariums Camp
Ages 6-11
"Any glimpse into the life of an animal quickens our own and makes it so much the larger and better in every way." -John Muir
Build a miniature forest! Design your own pond ecosystem! Care for live animals each day, and not just the cute and cuddly ones! In this habitat building camp, your child will learn what animals need to thrive in their environments and will continue the experience at home as they care for living creatures – from worms to spiders to carnivorous plants!
Fee: $150 per child ($140 sibling)
Camp Schedule: July 17-21, 2017, 9 AM - Noon, Monday-Friday.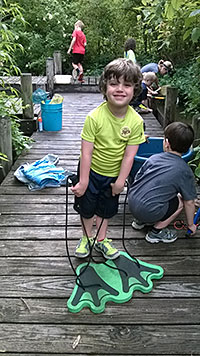 New! Imagine & Invent Camp
Ages 5-10
Nature is full of loose parts – from sticks to feathers to stones, we will design and build works of art and scientific inventions, using what we find here in our woods! A vine can be part of a catapult. A stick can turn into a magic wand. An old log can become a challenge course. From tiny creations to team building constructions, we will create together and be inspired every day by nature's designs all around us.
Fee: $150 per child ($140 sibling)
Camp Schedule: July 24-28, 2017, 9 AM - Noon, Monday-Friday.
Pond Camp
Ages 7-11
Time to dive in! For our water and mud-loving adventurers, we'll spend this action-packed week exploring the underwater world of our creeks, ponds, bays and bayous. We'll design our own pond aquariums, investigate the animals that live beneath the water's edge, and wade into the hidden habitats of Rummel Creek.
Fee: $160 per child ($150 sibling)
Camp Schedule: July 31-August 4, 2017, 9 AM - Noon, Monday-Friday.  
Survivor Camp
Ages 11-12
You're lost in the woods with no one to help! Do you have what it takes to survive? We'll test our nature survival skills as we learn to build shelters, filter our own water, start a fire without a match, cook using the sun, and make a tasty snack from plants (and bugs!) here in our forest. We'll all gather back together on Friday night to test our orienteering skills after dark, camp-out in our shelters, and enjoy a tasty campfire meal!
Fee: $180 per child ($170 sibling)
Camp Schedule: August 7-11, 2017, 9 AM - Noon, Monday-Friday.  
Optional Nighttime Camp-Out: Friday, August 11, 2017, 6:30-9:30 PM