Yellow-crowned Night-Heron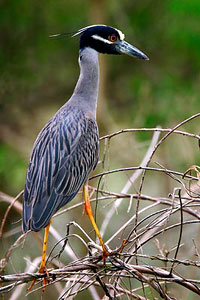 Yellow-crowned Night-Heron
Nyctanassa violacea
Family:  (Ardeidae) Herons, Egrets, and Bitterns 
Preferred Habitat: Woodlands and swamps.
Seasonal Occurrence:  Abundant in spring, summer and fall; less common in winter. Breeds in our area.
Notes: The Yellow-crowned Night-Heron is a short, stocky wading bird about 24 inches in length with a wingspan of a little under four feet. It has long yellow to orange legs, red eyes, a black bill, and a short neck. It has a slate gray body, a black head with a white streak on the side of its face and a yellowish-white crown. In breeding season it has a yellow plume of feathers on its head. Males and females look alike. Immature yellow-crowns are a mottled grayish-brown.
The great majority of the Yellow-crowned Night-Heron's diet consists of crustaceans. They eat many kinds of crabs, including blue, ghost, and fiddler crabs, as well as crayfish. Other prey includes insects, fish, snails, earthworms, marine worms, and leeches. Occasionally they've been found eating lizards, snakes, young birds, mice, and small rabbits.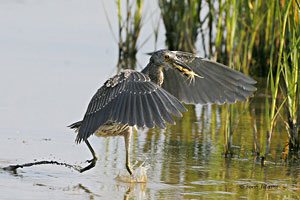 Yellow-crowned Night-Heron (juvenile)