Tree Swallow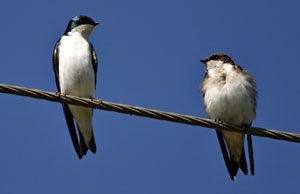 Tree Swallows (adult and juvenile)
Tachycineta bicolor
Family: (Hirundinidae) Swallows
Preferred Habitat: Open country
Seasonal Occurrence: Common in spring and fall; occasional in winter.
Notes by Susan Billetdeaux: Tree Swallows, unlike other swallows, may be found on the Upper Texas Coast in winter, when they forage on berries to supplement their normal insect diet. Adults are dark glossy green or blue on their upperparts, whereas juveniles are brown, sometimes with a buffy wash on their breasts. During fall migration Tree Swallows can be seen in huge numbers, particularly on the coast.
Profile by Aidan Healey: A bird must be very adept in flight to be able to catch and eat insects in mid-air, and the Tree Swallow is just that! Tree Swallows are often found flittering high above ponds, marshes, and open fields in search of their next insect meal.
Tree Swallows get their name from their habit of building nests in trees – and they are particularly fond of holes excavated by woodpeckers – but they will also commonly nest in bird houses where those are available. During the winter months, Tree Swallows can be found along the Gulf Coast and in Central America, but they migrate north to almost all of North America for the summer breeding season.
Cornell Lab of Ornithology