Savannah Sparrow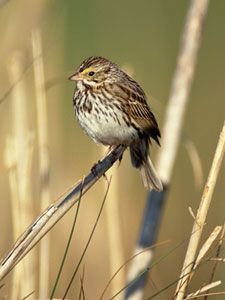 Passerculus sandwichensis
Family: (Passerellidae) New World Buntings and Sparrows
Preferred Habitat: Fields, roadsides, marshes
Seasonal Occurrence: Abundant November through April
Notes by Susan Billetdeaux: Heavily streaked with yellowish eyebrow and short, notched tail. Sexes are similar in plumage. One of our most common sparrows on the Katy Prairie. Savannah Sparrows are fast runners and often run rather than fly to escape observers.
Profile by Will McDaniel: The Savannah Sparrow is a medium-sized sparrow measuring 4.3-6.7 inches in length with a wingspan of 7-10 inches. It is a highly variable species with no less than 17 currently recognized regional subspecies. These mostly vary in the darkness of their plumage, with mostly northern and interior strains being paler and southern and coastal strains being darker in coloration. 
In general, Savannah Sparrows can be identified by their brown upperparts, white underparts, black streaking throughout, a white crown with often flared feathers, a short notched tail a relatively small beak compared to other sparrows, and a white or yellowish supercilium stripe or 'eyebrow'. Their call is a thin, shrill hissing sound, while their song is a series of dry chips and raspy insect-like trills similar to that of the Grasshopper Sparrow but with a different and more complex melody.
The Savannah Sparrow's name has somewhat of a double meaning; while named after Savannah, Georgia, the location of one of the first collected specimens, this bird also prefers open habitats such as grasslands, farmlands, and indeed savannahs. Principally foraging for seeds along the ground alone or in small flocks, Savannah Sparrows are known to be less shy than other grassland sparrows such as the Grasshopper Sparrow, being more willing to venture onto open ground or perch on fencerows and grass stalks. 
Breeding throughout the Rocky Mountains, the Northern US, Alaska, and Canada excluding Nunavut, these birds travel south to winter in the Southern US and Central America. During the breeding season, these birds will begin consuming insects to supply additional protein, laying 2-6 eggs in a nest hidden in a tunnel through thick vegetation.
Cornell Lab of Ornithology