Sandwich Tern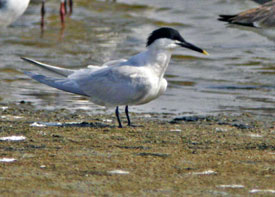 Sandwich Tern (breeding plumage)
Sterna sandvicensis
Family: (Laridae) Gulls and Terns
Preferred Habitat: Beaches and coastal marshes.
Seasonal Occurrence: Common throughout the year. Nests in our area.
Notes: The Sandwich Tern is a medium-sized tern, larger than a Common or Forster's Tern but noticeably smaller than a Royal or Caspian tern. It has a white body with a pale gray back, black legs and elongated feathers on its head giving it a shaggy crest. In breeding plumage, it has a black cap, while in non-breeding plumage this cap is replaced by a pale white forehead. Sandwich Terns are best identified by their long, thin, black bill with a yellow tip, which many birders say looks as if it has been dipped in mustard.
There are 3 subspecies of Sandwich Tern: one in North America, one in Eurasia, and one found in the Caribbean and on the Atlantic Coast of South America. While the North American and Eurasian subspecies have the same appearance, the third subspecies, often referred to as the Cayenne Tern, has a completely yellow bill.
Sandwich Terns are resident all along the Gulf Coast, with their breeding range extending along the Atlantic Coast up to New Jersey. In Texas, Sandwich Terns nest colonially with Royal Terns, Laughing Gulls and Forster's Terns on both natural barrier islands and artificial dredge spoil islands. Bolivar Flats is a great place to look for these birds loafing in large groups with Royal Terns, but also keep your eyes peeled for them feeding, over the water, within 2 miles of the shore all along our coastline.
- Jess McClean