Sanderling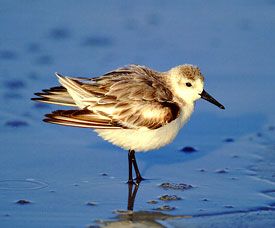 Calidris alba
Family: (Scolopacidae) Sandpipers
Preferred Habitat: Sandy beaches
Seasonal Occurrence: Common September through May. Lesser numbers June through August
Profile by Bryce Loschen: Sanderlings are a small, plump sandpiper with black legs and a stout, medium-length, black bill. Sanderlings and other members of the genus Calidris are often called "peeps." Compared to other peeps, Sanderlings are medium sized. Nonbreeding Sanderlings are a pale gray above and white below with no streaking. Breeding Sanderlings are rufous mottled with black and white above and clean white below.
During the winter, Sanderlings spend their time on sandy beaches. They are often found running back and forth along the shore chasing receding waves. Sanderling diet consists mainly of sand crabs and other small invertebrates left exposed by a receding wave. They will also sometimes eat insects or plant material. Sanderlings breed in the tundra on the islands and peninsulas of the High Arctic. Nests are shallow scrape lined with small leaves on open ground often on the shore of a freshwater lake or pond.
Sanderlings are one of the world's most widespread shorebirds. Despite nesting only in the High Arctic, in the fall and winter you can find them on sandy beaches all over the world. Sanderlings are one of the most common shorebirds, but studies show that numbers are declining. Sanderling's preferred sandy beaches are also prized by humans, and thus vulnerable to development and alteration. Large numbers of Sanderlings can be found on the Texas Coast during the fall and winter months. Some nonbreeding Sanderlings avoid the long flight to the Arctic and stay on the wintering grounds through the summer, so look for them at Houston Audubon's Bolivar Flats Shorebird Sanctuary all year long!