Ruby-crowned Kinglet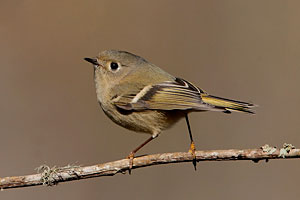 Ruby-crowned Kinglet
Picoides pubescens
Family: (Regulidae) Kinglets
Preferred Habitat: Woodlands.
Seasonal Occurrence: Abundant November through April
Notes: Ruby-crowned Kinglets are familiar winter residents in Houston. They are commonly spotted flitting through woodlands as they seek out small spiders and other insects. Their dry, machine-gun-like chit-dit-dit call is easy to identify. They also possess a beautiful warbling song which is heard in the spring before they depart for the north. Only the male has the crimson crown patch. Normally the patch is concealed, but it is raised whenever he is excited. He also displays it during encounters with other males.
Ruby-crowned Kinglet displaying crown patch