Ring-billed Gull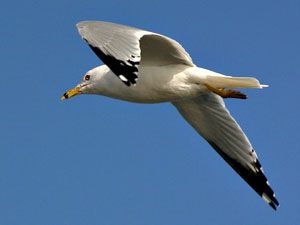 Larus delawarensis
Family: (Laridae) Gulls and Terns
Preferred Habitat: Freshwater lakes and marshes; coastal salt marshes
Seasonal Occurrence: Common fall through spring; uncommon in summer
Notes by Susan Billetdeaux: Ring-billed Gulls are the most common inland gull. In fact, according to the Cornell Lab of Ornithology, some never frequent coastal waters. In Houston Ring-billed Gulls are often found hanging around parking lots. Ring-billed Gulls take 3 years to acquire adult plumage. Females are slightly larger than males.
Profile by Will McDaniel: The Ring-billed Gull is a gull of middling size, averaging approximately 19 inches in length with a wingspan slightly over 4 feet with a light grey back and wings, yellow legs, and white underparts, head, and neck. The bill is thin and relatively short for a gull, slightly hooked with an eponymous black ring around it. Like many other gulls, the Ring-billed Gull is an aggressive and opportunistic omnivore that feeds on everything from fish and fruit to garbage and roadkill, often stealing food from smaller birds such as Laughing Gulls and Grackles. 
At home around inland lakes and reservoirs as well as beaches and beachside restaurants, these gulls congregate in huge flocks near food sources, circling overhead like pallid vultures or floating on the waves in sprawling rafts. Nesting in large colonies on areas of bare ground near water, Ring-billed Gulls spend the warm months in Canada and the Northern US, particularly in the vicinity of the Great Lakes. As summer ends, they make their way to the Atlantic and Pacific coasts as well as Mexico and Texas, where they are comfortable along many inland waterways.
Cornell Lab of Ornithology