Redhead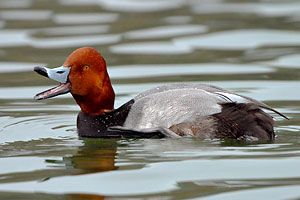 Aythya americana
Family:  (Anatidae) Ducks, Geese and Swans 
Preferred Habitat: Marshes and lagoons, often seen in shallow waters.
Seasonal Occurrence: Uncommon fall through spring. Occasional in summer.
Notes by Susan Billetdeaux: The Redhead may be found in winter in loose flocks on lakes and marshes. The female lacks the male's distinctive plumage; she is soft brown in color with a dark bill. The male resembles the similarly colored Canvasback, but the Canvasback is larger, has a longer bill and sloping forehead. Redheads feed mainly at night and during the day rest on water. Formerly, large numbers of Redheads could be seen here in winter, but their numbers have been declining in recent years.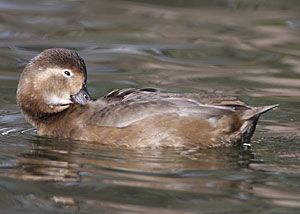 Profile by Sarah Lefoley: Much like Beyoncé, the Redhead is so fabulous that it need only be referred to by one name. A male Redhead will have a light gray body, with a black rump and breast, and a vibrant rufous head. Female Redheads are a dark tan color overall, have darker brown crowns, and napes, and lack the red head. All Redheads have the same rounded head, and grey bill with a black tip. The transition from forehead to bill is not gradual like it is in Canvasbacks.
Although they are classified as diving ducks, Redheads will often forage just below the surface as dabbling ducks do. Redheads eat a combination of emergent aquatic plants, and aquatic invertebrates, such as pondweeds, green algae, bulrushes, snails and mayflies.
Redheads prefer to suspend their nests over water in bulrush or cattail leaves in an attempt to keep mammals from eating their eggs. While temporary ponds and wetlands in prairie pothole habitat are preferred breeding grounds, more permanent wetlands are favored when raising young. These deeper and more permanent wetlands may include water reservoirs, and sewage treatment ponds. Nest parasitism is common practice among Redheads. Some female Redheads delegate all of their egg incubation to other birds. Not only do Redheads parasitize the nests of other duck species, they will sometimes lay their eggs in the nests of American Bitterns and Northern Harriers.
This species can often be found in mixed species flocks, and will form larger flocks during migration. Thousands of individuals winter in the nearshore waters of the Gulf of Mexico each year with numbers highest in the Laguna Madre where seagrass meadows are more abundant. Redheads have recently (2021) been seen in Chambers, Galveston, Brazoria, and Jefferson Counties.
Cornell Lab of Ornithology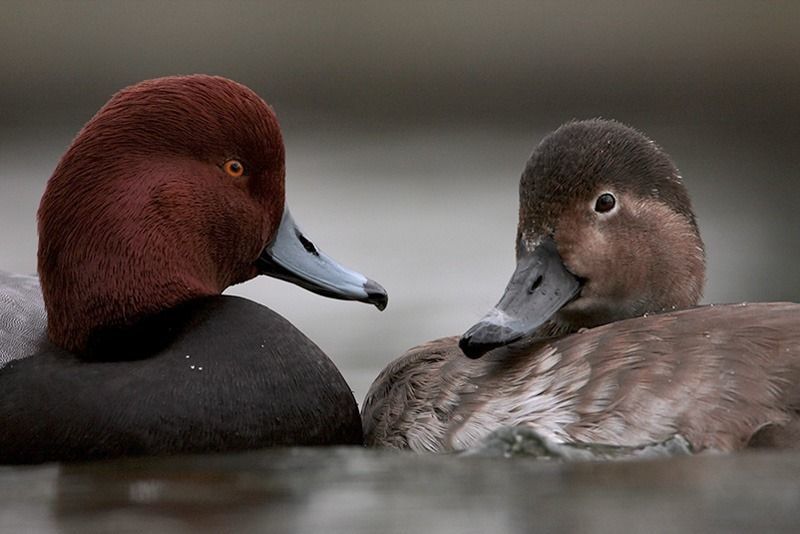 Redhead (male and female)