Reddish Egret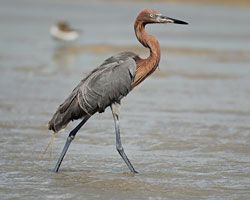 Egretta rufescens
Family: (Ardeidae) Herons, Egrets and Bitterns 
Preferred Habitat: Saltwater marshes.
Seasonal Occurrence: Common spring through fall. Uncommon in winter. Breeds in our area.
Notes:  The Reddish Egret is a medium to large heron that occurs in two color morphs: dark (reddish-brown) and a much more scarce white morph. The dark morph is bluish gray overall with a rusty neck and head, blue-gray legs and a black bill. The white morph has all white plumage, blue-gray legs and a black bill. In breeding plumage the base of the bill becomes pink in both morphs.
The foraging behavior of the Reddish Egret is distinctive and entertaining. The bird is often seen running, jumping, flapping and spinning in its pursuit of fish. Some liken the active foraging to a dance as the bird dashes about and fans its wings.
Reddish Egrets are more tied to salt water than any of the other herons and egrets; they most likely to be found in coastal saltwater marshes. The best sites to observe Reddish Egrets are the Bolivar Flats Shorebirds Sanctuary, Sea Rim State Park, and Brazoria National Wildlife Refuge.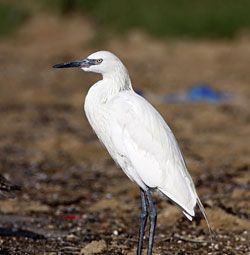 Reddish Egret (white morph)
Profile by Ryan Call: Throughout coastal flats, saltmarshes, tidal ponds, and lagoons, the Reddish Egret excitedly forages for prey — primarily fish — accomplishing what many birders call a "drunken dance." The bird hunts shallow water, lurching back and forth, half-jumping and half-marching, its wings half-extended or flicking open up around its head. An unusual spectacle, certainly, but one with purpose — to disturb prey, which it then strikes and, if successful, tosses into the back of its throat.
A medium-sized heron, the Reddish Egret in its dark morph form appears most similar to Tricolored Herons and Little Blue Herons and, in its light morph form, to Snowy Egrets. While it's typically bigger and taller than these birds, you can rely most on the bi-colored bill of a breeding Reddish Egret to distinguish it from the other species. As for identifying a non-breeding Reddish Egret, you'll want to be mindful of its greater size and seemingly erratic foraging behavior.
Once, like many other wading birds that were hunted for their beautiful feathers, the Reddish Egret nearly disappeared from North America by 1900. In fact, Reddish Egrets were not observed in Florida between 1927 and 1937. Fortunately, conservation efforts have significantly improved the Reddish Egret population — the National Audubon Society estimates "roughly 2,000 pairs" currently exist in the United States. Interestingly, the Reddish Egret is — according to Birds of the World — North America's "least studied ardeid."
Visit Bolivar Flats Shorebird Sanctuary, Brazoria NWR, San Luis Pass, and other areas along the Gulf where coastal flats are common to watch these entertaining birds as they hunt. During Spring, you might have an opportunity to witness a pair in courtship displays, a probably more elegant dance.
Cornell Lab of Ornithology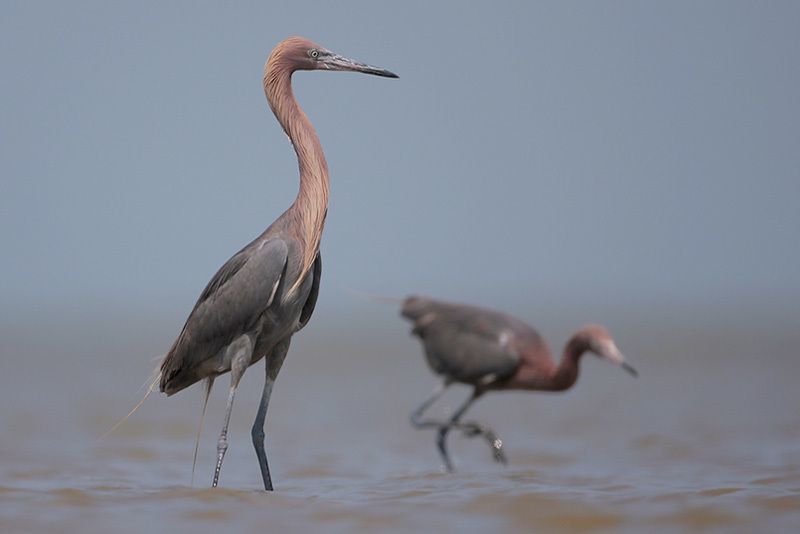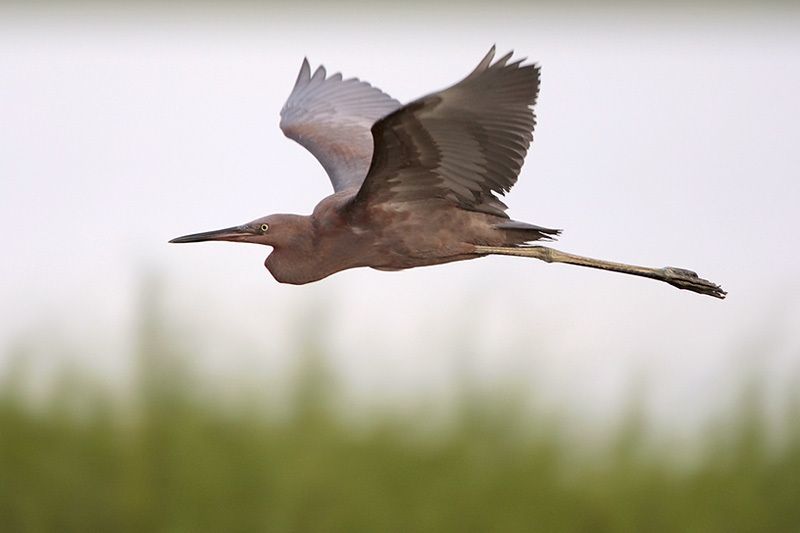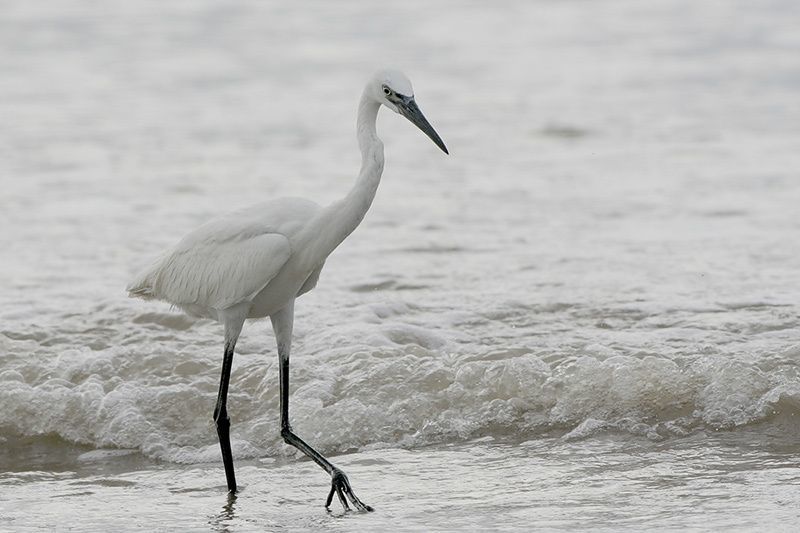 Reddish Egret (white morph)