Pomarine Jaeger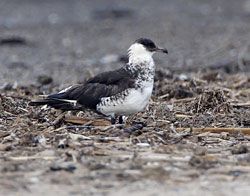 Pomarine Jaeger (adult, light breeding plumage)
Stercorarius pomarinus
Family: (Stercorariidae) Skuas and Jaegers
Preferred Habitat: Offshore over open water.
Seasonal Occurrence: Occasional spring through fall.
Notes by Susan Billetdeaux: Jaegers are related to gulls. The name Jaeger, which is German for "hunter", is very apt, as they often chase gulls and other seabirds for their prey. Pomarine Jaegers are larger and stockier than Laughing Gulls and are usually seen well offshore. Adults occur in two plumage variations, light and dark. Most are light-plumaged. Dark adults are all black. Juveniles have brown plumage, with the hue ranging from quite light to very dark. According to David Sarkozi, one of the best ways to find jaegers is to look for shrimp boats which are accompanied by large flocks of gulls.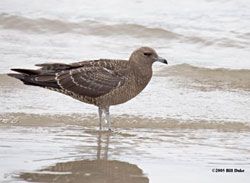 Pomarine Jaeger (first fall juvenile)
Profile by Aidan Healey: Though they spend the majority of their lives over the ocean, seabirds such as the Pomarine Jaeger occasionally get blown far inland by tropical storms. At first glance, Pomarine Jaegers may look like a rather large gull with a bulkier profile. They are powerful, direct fliers, and they use this ability to chase after and steal food from other seabirds.
 
Pomarine Jaegers come in two different color morphs – light and dark – of which the light morph is more common. Light morph Pomarine Jaegers are dark-backed and light-chested, with a dark cap on their head that extends over much of the face and a strong dark band across their chest. They have a long beak that is hooked at the tip, and two spoon-shaped central tail feathers that project beyond the rest of the tail. Dark morph Pomarine Jaegers have a similar bulky shape, hefty hooked bill and unique tail feathers, but they are dark even on the underside. All Pomarine Jaegers, including the dark morph, have particularly large white patches on their wingtips that appear to flash while they are in flight, which can be very useful in identifying them from a distance.
Cornell Lab of Ornithology