Pine Siskin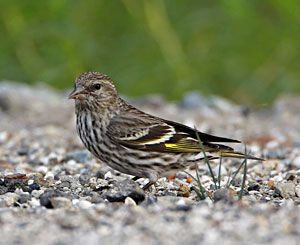 Carduelis pinus
Family: (Fringillidae) Finches
Preferred Habitat: Open woodlands
Seasonal Occurrence: Winter
Profile by Aidan Healey: The Pine Siskin can normally be found across southern Canada and in higher elevations of the Rocky Mountains, spreading more widely across the northern and western United States during winter. Pine Siskins prefer to feed on the cones of spruce trees, and, in years when spruce trees do not produce many cones, they will wander outside of their usual range in search of other food sources to supply them through the winter months. These large-scale movements of Pine Siskins and other finches into areas typically outside of their winter range are called irruptions; in some years these irruptions reach as far as the Houston area. This year (2020) appears to be one such irruption year, as Pine Siskins have been reported around southeast Texas in the past few weeks.
 
During these irruption winters, when many Pine Siskins are wintering outside of their normal range, they can often be found in flocks of American Goldfinch while visiting sunflower or thistle seed feeders. Pine Siskins are small birds that are generally streaked brown both above and below, with a touch of yellow on the wings and at the base of the tail. These yellow patches may be difficult to see when Pine Siskins are perched, but they are much more noticeable when the birds take flight. The call of Pine Siskins is also unique - many birders liken it to the sound of a zipper being zipped, and hearing this call is an easy way to find flocks of birds high in treetops or flying over.
Notes by Susan Billetdeaux: Ken Kaufmann refers very aptly to Pine Siskins as "goldfinches in camouflage." The same size and shape as goldfinches, Pine Siskins have streaky brown plumage. Note the yellow stripe on the edges of their wings. Pine Siskins are irregularly seen in Houston. Some winters they are very common; other years they are very difficult to find. Their foraging patterns are very similar to goldfinches, and like goldfinches they will readily take over a sunflower seed or thistle feeder. Pine Siskins associate in flocks even during the breeding season. The Cornell Lab of Ornithology reports that after a large irruption, some Pine Siskins may remain in their wintering grounds to breed.
Cornell Lab of Ornithology