Pileated Woodpecker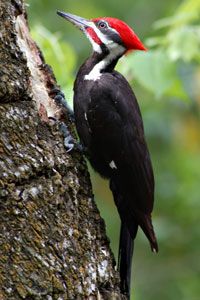 Pileated Woodpecker (male)
Dryocopus pileatus
Family: (Picidae) Woodpeckers
Preferred Habitat: Old growth woodlands.
Seasonal Occurrence: Common permanent resident.
Profile by Vicki Stittleburg: A large, crow-sized woodpecker, the Pileated Woodpecker is mostly black with white stripes on the face and neck and a flaming red crest. White wing linings are visible when the bird is in flight. The dark bill is long and chisel-like, about the length of the head. The eyes are yellow. While both sexes have the red crest and white neck stripe, only the male has a red forehead and mustache.
Pileated Woodpeckers favor mature deciduous or mixed deciduous-coniferous forest, but can be found in a wide variety of forest types including second-growth and fragmented woodlots. Despite development, Houston has enough areas with tall trees that Pileated Woodpeckers are fairly common, even in city parks and suburbs. As a primary cavity nester, the Pileated Woodpecker plays an important role in forest ecosystems. Its abandoned cavities provide crucial shelter for ducks, owls, bats, and flying squirrels. The Pileated Woodpecker uses its powerful bill to chisel out uniquely shaped rectangular cavities in its search for food. Carpenter ants are its main prey, but it will also consume wood-boring beetle larvae, berries and nuts.
Pileated Woodpeckers are quite vocal, typically making a high, clear, series of piping calls that sounds like woika, woika, woika, woika. They also give shorter calls that sound like wuk, wuk or cuk, cuk to indicate a territory boundary or to give an alarm. Both sexes drum powerfully on trees at any time of the year, typically a fairly slow, deep rolling that lasts about 3 seconds.
Profile by Ryan Call: Records show that the Pileated Woodpecker is the largest woodpecker in North America — the Ivory-Billed Woodpecker and the Imperial Woodpecker were larger but are presumed extinct.
An unmistakable, crested, red and black, crow-sized bird, the Pileated Woodpecker makes its home in deciduous, coniferous, and mixed forests — forests with older, larger trees capable of sustaining the bird's massive nest and roost cavities — across North America, so you should imagine its year-round range to be a sort of upturned U settled onto the map of our continent.
You can hear its loud, cacophonous, and repetitive call echoing throughout the forest: a few seconds of high, clear, piping chucks reminiscent of the call of a Northern Flicker, but more robust and deeper in tone. The drum, too, of a Pileated Woodpecker is obnoxiously loud and deep — it rolls throughout the forest. I hate to say it this way, but it just makes sense: when you hear the drum of a Pileated Woodpecker, you know it's the drum of a Pileated Woodpecker.
What I've always found to be most fascinating about the Pileated Woodpecker is this: the bird has a tremendously powerful and influential beak. The Pileated Woodpecker itself can seemingly quickly and powerfully hollow out and destroy a tree branch or trunk. I have often witnessed these birds working feverishly at their project: foraging in the roots about a stump at Jesse H. Jones Park or cutting a swath of emptiness into a tree trunk in the woods of the Houston Arboretum. Above our own front yard, my daughters and I discovered a single male unabashedly pillaging a deadish limb of oak, and later in the street we found the remnants: bark, chips, the entire leftover limb that had finally broken from the tree, and terrified carpenter ants running about, all scattered across the street. Pileated Woodpeckers are so enthusiastic in their foraging that they have been known to break entire trees in half with their long, rectangular excavations!
These are a special sort of bird, I believe. I feel incredibly pleased to live in an area of the country in which they too live. Their loud call reminds me of the woods of my childhood in eastern Tennessee, even when I hear it near my home in Houston. Their powerful, vigorous, undulating flight encourages me. Their odd grappling up and down a tree trunk excites me. Even the task of discovering the red stripe on the cheek of a male fills me with joy. It is fulfilling to finally see that powerful head rise into view and pause above a branch, the crest upraised, the red cheek brilliant in the sun.
Ivory-billed or Pileated?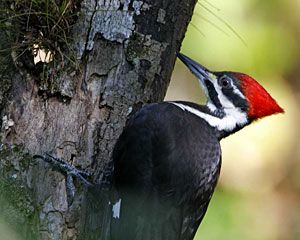 Pileated Woodpecker (female)
Every year Houston Audubon receives calls about possible sightings of Ivory-billed Woodpeckers. After the rediscovery of the Ivory-billed Woodpecker in the spring of 2005, this has become particularly common. For those new to birding, the two woodpeckers look confusingly alike. The easiest distinguishing mark for the Ivory-billed is its large white wing patches on the upper surface of its wings. Both woodpeckers display large white areas on the underneath surface, but for Pileated Woodpeckers the upper wing surface is black with only a touch of white on the side. Ivory-billeds have much longer, whiter bills and also are larger in size. Finally, we recommend that anyone who sees what he or she is convinced is an Ivory-billed to document the bird by photographing it.
- Susan Billetdeaux
Cornell Lab of Ornithology