Philadelphia Vireo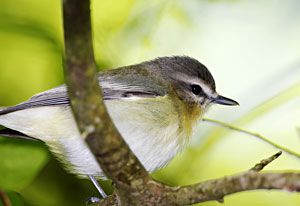 Vireo philadelphicus
Family: (Vireonidae) Vireos
Preferred Habitat: Woodlands
Seasonal Occurrence: Spring and fall migration
Profile by Glenn Olsen: During spring migration, most birders, including me, are excited to get out and see colorful warblers as they return from wintering grounds in Mexico, Central, and South America. But I am also quite fond of those species whose plumage is not flashy but is the essence of beauty, exemplified in the most delicate, subtle, and understated way. Most vireos are in this sophisticated, muted group; however a few have more striking plumage. The Philadelphia Vireo is often overlooked due to its resemblance to two other vireos and one warbler. It is rather dapper in attire once you learn to distinguish this species from the others.

This species has an olive-green back, gray-olive primaries, and a distinguished gray cap. The undersides are off-white with a pale, soft wash of golden yellow that varies with individuals and the season. For me, the delicate looking and softly colored face is as distinctive as any friend's face. The soft, pale-gray cap, a muted but notable white eyebrow, and a dark eyeline give this little vireo a quite handsome look.

Because it is often overlooked or confused with Warbling Vireo, Red-eyed Vireo, or Tennessee Warbler, this species is an even more enjoyable bird to learn. The soft-gray cap and dark eyeline distinguish it from the Warbling Vireo. The Tennessee Warbler has a thin, sharply pointed bill unlike the stubby look of the vireo. The warbler also has a brighter white eyebrow and underparts and, in the spring, a bright olive-green mantle. The Red-eyed Vireo has a prominent black lateral crown stripe and a dark eyeline, and this gives the white eyebrow a dark top and bottom border. Second year and older birds usually have a burgundy-red eye.

Spring migration is a great time to search the canopy for this distinguished vireo that may be overlooked when warblers are present. I will look for you at High Island.