Northern Shoveler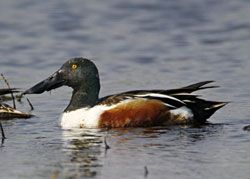 Northern Shoveler (breeding male plumage)
Spatula clypeata
Family: (Anatidae) Ducks, Geese, and Swans
Preferred Habitat: Marshy ponds and lakes
Seasonal Occurrence: Abundant October through April
Profile by Vicki Stittleburg: Aptly named, both male and female Shovelers have an extra-large, spatulate bill; the bill is longer than the head. They both also have a blue forewing patch that is prominent in flight and a green speculum. Males have a green head, yellow eyes, white breast, and chesnut brown flanks. Females and juveniles are mottled brown overall with an orange tinged bill.
Northern Shovelers eat much smaller organisms than most other waterfowl. They are likely to be found in the shallows of ponds and marshes where they use their spoonlike bill to strain aquatic crustaceans, insect larvae and seeds and small fish from the water. Northern Shovelers are rarely seen tipping up or diving and they seldom feed on land. Northern Shovelers are abundant in our area October-April. Good sites to observe them include the Katy Prairie, the San Bernard NWR, and Archbishop Fiorenza Park Phase 2.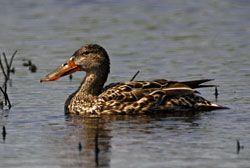 Northern Shoveler (female)
Profile by Carrie Chapin: The Northern Shoveler is a unique species of dabbling duck found in wetlands across much of the world, including North America, Central America, Europe, parts of Africa, and Asia. Northern Shovelers breed in Alaska, Canada, the northern U.S., and Russia. During the fall and winter, they expand their range southward to include the southern U.S. and Mexico. 
The Northern Shoveler is a unique species of teal and is most easily identified by its oversized bill adapted for sifting small crustaceans from the water column. They often swim in tight circles to stir up crustaceans from deeper underwater. Northern Shovelers are slightly smaller than mallards but much larger than the dainty green-winged teal. Breeding males have a green head, black bill, chestnut side patch, yellow eyes, white breast and rear, and a blue and green patch on each wing. Female Northern Shovelers are brown with white accents and are best identified by their large orange bills and legs. Nonbreeding males have a washed-out chestnut patch on the side and a black bill. 
Northern Shovelers choose mates by mid-January and are the most territorial of all North American dabbling duck species. By mid-April, the female makes the nest and lays 9-11 olive-colored eggs. The nest comprises a simple down-lined bowl made within short vegetation near water. Incubation lasts between 22 and 27 days. Shortly after birth, the precocial (relatively mature and mobile) young are led by the female to the body of water and begin feeding themselves. The young fledge between 36 and 45 days later. 
Northern Shovelers are just beginning to come back to the area this year (November 2022). The Bolivar Flats and various wetlands along the Bolivar Peninsula are great places to see this unique duck species!
Cornell Lab of Ornithology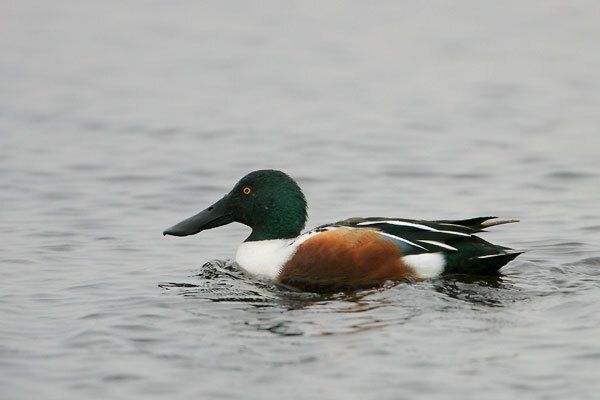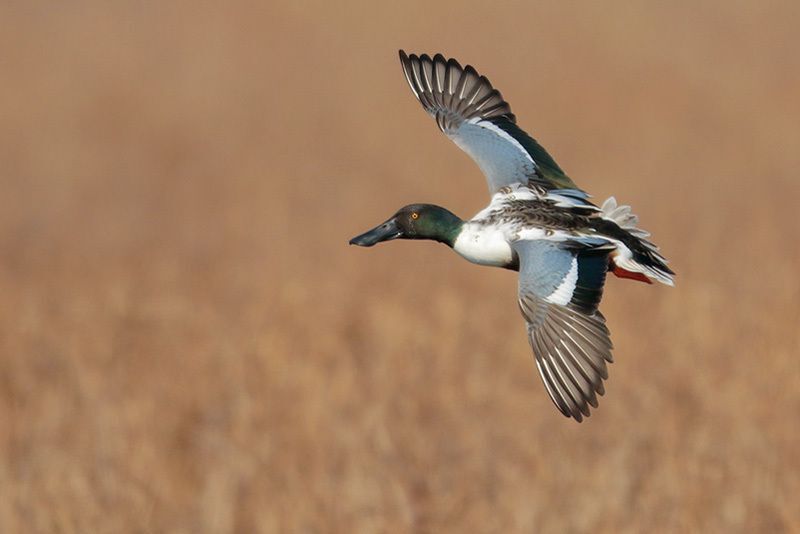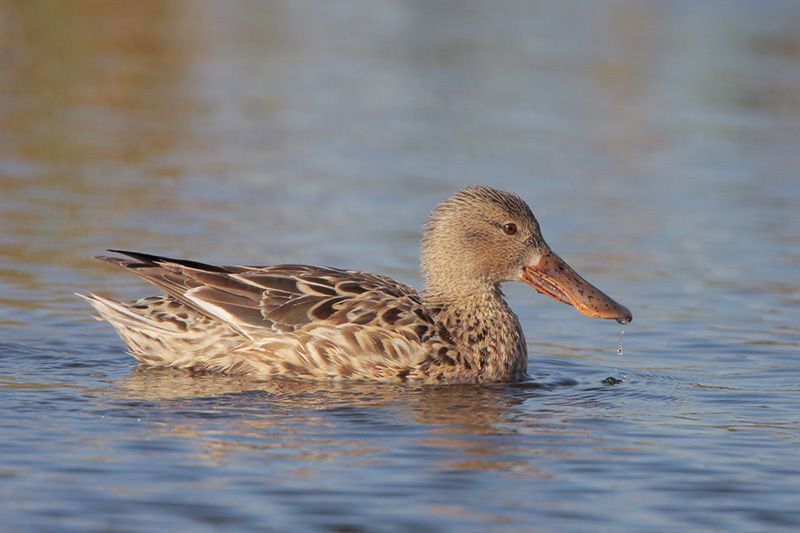 Northern Shoveler (female)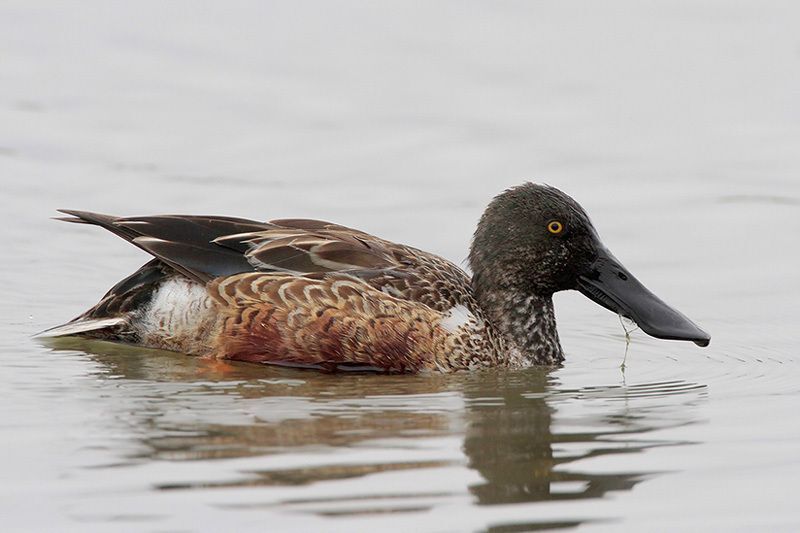 Northern Shoveler (nonbreeding male)