Northern Pintail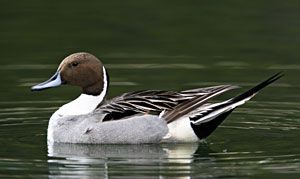 Anas acuta
Family: (Anatidae) Ducks, Geese, and Swans
Preferred Habitat: Marshy ponds and lakes
Seasonal Occurrence: Common September through April
Notes: Slim and long-necked, the Northern Pintail has a distinctive silhouette. Pintails are named for their elongated central tail feathers, which constitute one-fourth of the drake's body length. They are referred to as the "greyhounds of the air" due to their fast, streamlined flight on long, slender wings.
The drake Northern Pintail has a silvery body, accented with white on the sides and breast, and black on the tail and wing feathers. A white neck stripe and a rich chestnut head complete this slim, elegant bird. The female is well camouflaged in muted tans, grays, and browns. Northern Pintails are among the first ducks to migrate south in the fall and north in the spring. They are common at prairie ponds and coastal marshlands and are a very reliable winter resident on the Katy Prairie.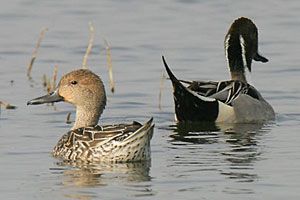 Northern Pintails (female, back view of male)
Profile by Aidan Healey: The Northern Pintail feeds on seeds and aquatic insects, which they usually find by up-ending while swimming, tipping forward and dabbling at food under the surface of the water. When feeding in this manner, their uniquely long necks allow them to reach food items that are up to a foot under the water surface, beyond the reach of other dabbling ducks like Mallard or Blue-winged Teal.
The Northern Pintail is a large duck with a distinctive long-necked, slender shape. Male Northern Pintails are patterned mostly gray and white, with a white stripe extending up the neck onto their otherwise dark brown head. They have a particularly long and pointed tail, for which the species is named, and in flight they show a light tan or whitish border on both the front and back edges of their iridescent green speculum. Female Northern Pintails are less strikingly colored, but they can easily be identified by their overall shape, wedge-shaped tail, and blueish bill.
Northern Pintails are generally one of the earliest waterfowl to migrate – they are one of the first to arrive in the Houston area in the fall, and they are one of the first to depart for more northern breeding grounds in the spring. While in our area, Northern Pintails can be found in fresh water ponds, lakes, and flooded fields, as well as in coastal salt marshes and along beaches. Northern Pintails generally feed most actively near both dawn and dusk, so they are often seen resting idly during the day.
Cornell Lab of Ornithology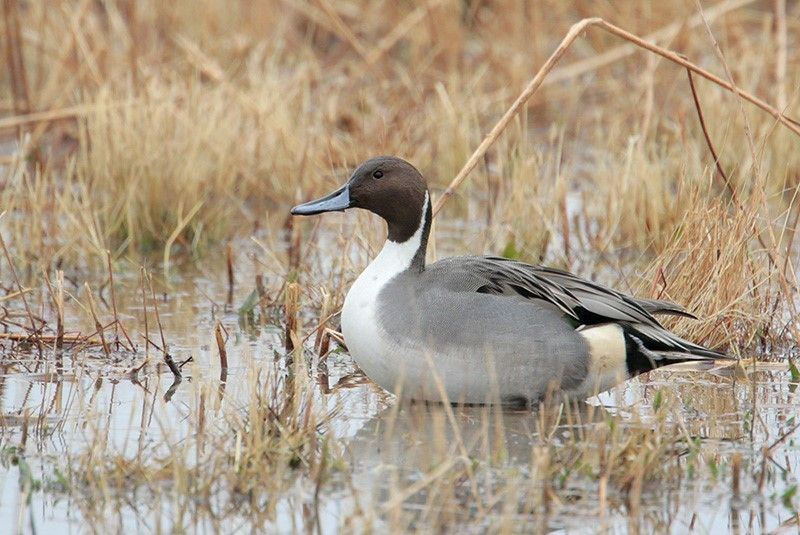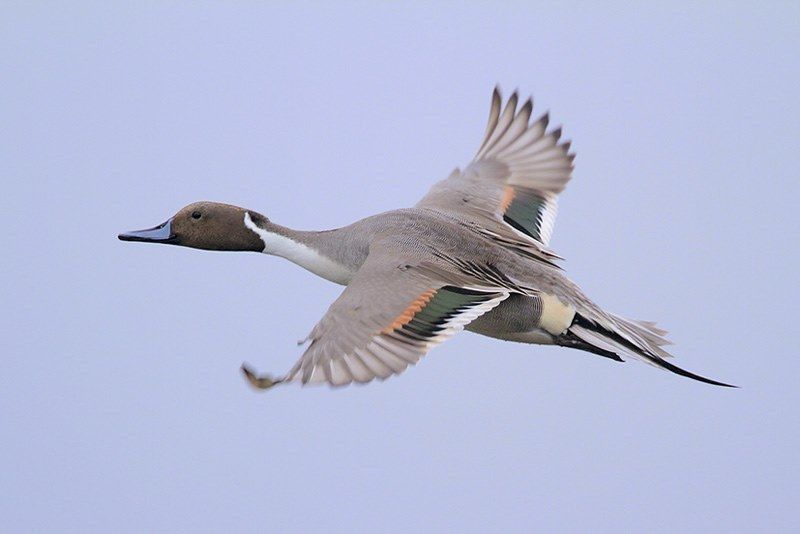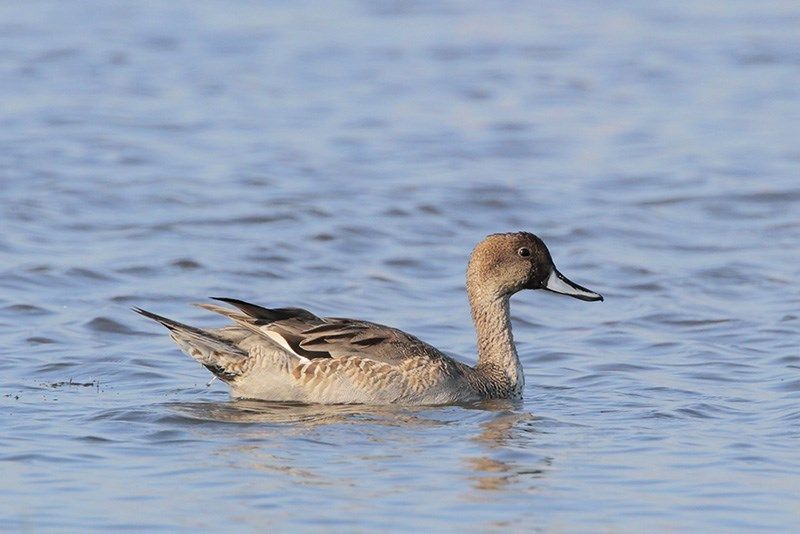 Northern Pintail (female)