Mourning Dove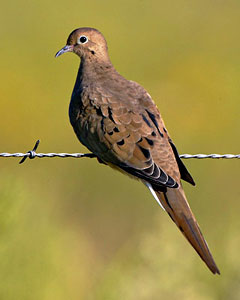 Mourning Dove
Zenaida macroura
Family: (Columbidae) Pigeons and Doves
Notes: The Mourning Dove is abundant in all seasons in our area and may be found in almost all habitats except deep woods. Mourning Doves are declining in numbers in certain neighborhoods in Houston, where they appear to be displaced by White-winged Doves. This is particularly evident in areas inside the I610 Loop. As shown in Robert McFarlane's photo, White-winged Doves are larger than Mourning Doves and even when on the ground display a white border on the wings, making them easy to distinguish. Because Mourning Doves are so tame, they are an easy species to study. The Cornell Lab of Ornithology sponsors Dove Detectives, a study-watch of urban doves and pigeons.
Invite Mourning Doves to Your Yard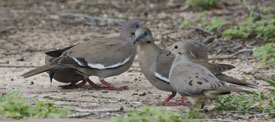 Mourning Dove and White-winged Doves
In Houston Mourning Doves are very fond of suburban sites, where they may often be spotted on sidewalks and short grass looking for seeds. They visit tray-style feeders, but prefer to feed on seed scattered on the ground or on patios. Fairly dense shrubs and trees make good nesting sites. Mourning Doves often take advantage of hanging baskets as relatively safe nesting sites.