Little Blue Heron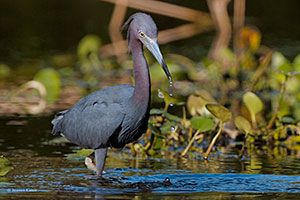 Little Blue Heron (breeding plumage)
Egretta caerulea
Family: (Ardeidae) Herons, Egrets and Bitterns 
Preferred Habitat: Freshwater lakes and marshes; coastal salt marshes
Seasonal Occurrence: Common in all seasons 
Profile by Azure Bevington: The Little Blue Heron is a small heron (~ 60 cm) found throughout the Southeastern U.S mainly during the spring and summer, although year round populations occur along the Gulf Coast and in Florida. Little Blues are often overlooked due to their dark coloration and smaller size, however they are striking when observed up close. They have a dark blue body with a deep reddish purple head and neck, the bill is light blue with a black tip. Juveniles have all white plumage, except for the dusky tips of the primaries and can easily be mistaken for Snowy Egrets at first glance. The much more active feeding behavior and the longer thinner bill, dark legs, and yellow feet of adult Snowy Egrets can be used to distinguish them from the juvenile Little Blues. As the first year juveniles transition to adult plumage, they are streaked with blue and white as in the photo below. This pied pattern is unique among herons and quite striking, keep an eye out for these unique birds during the summer months.
As they are not showy or active feeders, preferring to slowly stalk prey Little Blues very easily can be overlooked with their dark coloration blending into the shadows at the water's edge. Look closely along shallow fresh and brackish water particularly where there are overhanging branches or bushes for cover. They are often seen singly or in pairs, though rarely they can be found with other herons. It has been hypothesized that the white colors of the first years allow them to be more easily accepted by groups of Snowy Egrets, increasing their chances of finding food and providing extra protections from predators.
Little Blue Herons nest at the Houston Audubon Smith Oaks Rookery in High Island during the spring and early summer, but are often difficult to see, as they prefer to nest in dense willow canopies out of sight of most visitors. They lay 3-4 pale blue eggs in stick nest built in shrubs or small trees, which hatch after about 22 days. The hatchlings are downy white and remain in the nest for 35-50 days.
Next time you are near a wetland or shallow water body take a closer look and you just may find this striking bird slowly stalking small crustaceans and fish along the water's edge.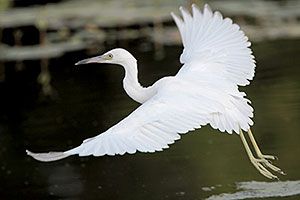 Little Blue Heron (immature)