Lesser Nighthawk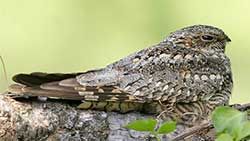 Chordeiles acutipennis
Family: (Caprimulgidae) Nighthawks and Nightjars
Preferred Habitat: Arid climates, desert habitat
Seasonal Occurrence: Uncommon in our area
Profile by Maria Hart: The Lesser Nighthawk is a small to medium sized Nightjar with a flat head, a long wingspan, and long tail. Cryptically colored, the Lesser Nighthawk is mottled brown and black with distinctive light colored bands on the wingtips. Males have bolder wingtip bands as well as a white band on the tail and across the neck. When compared to the nearly identical species, Common Nighthawk, the Lesser Nighthawk's wing bands are located closer to the wingtips. The Lesser Nighthawk can also be distinguished by their unique vocalizations which sound similar to a toad-like trill or a long lasting urrrrrrrr.
 
Like other members of this family, Lesser Nighthawks can be very difficult to see during the day as they lay on the desert floor, almost perfectly blending in with the habitat around them. Your best chance of detecting a Lesser Nighthawk is during dusk or dawn, as they skim just above the ground or low shrubbery with mouths wide open hunting for a meal. The main diet of a Lesser Nighthawk includes aerial insects such as mosquitoes, moths, June bugs, etc.
 
This species of Nighthawk breeds in arid climates primarily in the deserts of the southwestern portion of the United States and Northern South America. The female Lesser Nighthawk lays her eggs directly on the bare ground, or ground only occupied by small pebbles, relying solely on her camouflage coloration to hide the eggs from lurking predators. To survive in the extreme heat of desert habitats while nesting, many members of the Caprimulgidae family regulate body temperature by gular-fluttering to exaggerate evaporative cooling. During periods of acute cold, the Lesser Nighthawk will actually slow down their metabolism rate to almost nothing in a state of torpor.
While Lesser Nighthawks are most commonly observed in the Southwest, one individual has decided to settle in Houston Audubon's very own High Island Bird Sanctuary during April, 2019. Don't believe us? Come on down to High Island to see the enigmatic Lesser Nighthawk for yourself!