Lesser Black-backed Gull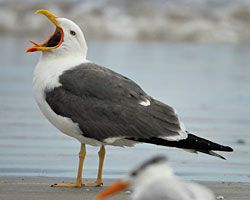 Lesser Black-backed Gull (adult breeding plumage)
Larus fuscus
Family: (Laridae) Gulls, Terns and Allies
Preferred Habitat: Coastal bays, lakes, and rivers
Seasonal Occurrence: Rare fall through spring
Profile by Bryce Loschen: Lesser Black-backed Gulls are European gulls that are regular visitors to the Eastern United States in the winter. Adults are dark gray above, white below, with dark streaks around their eye and a bright yellow bill with a red spot on the lower mandible. They have distinct yellow legs, which separate them from adult Great Black-backed Gulls and Herring Gulls. Juvenile Lesser Black-backed Gulls are mottled brown above and paler below with some streaking. They have a distinctive smudgy patch around their eye like adults.
Lesser Black-backed Gulls are found primarily along the coast in bays, beaches, and estuaries with some found inland along lakes and rivers, and at garbage dumps. Their diet includes a variety of fish, marine invertebrates, insects, birds, eggs, carrion, and garbage. Sometimes they will feed by swooping down to the sea surface in flight, while other times they will pick up food while walking or swimming. Lesser Black-backed Gulls are known to steal food from other birds.
Lesser Black-backed Gulls used to be a rare visitor to North America, but now many frequent the Atlantic and Gulf Coasts during the winter, and a few stray to inland sites all across the continent. This increase in winter visitors is likely due to the growing population of the species in Iceland and Greenland. They are not established as a nesting bird in North America, but numbers and distribution are increasing. Lesser Black-backed Gulls frequent Texas beaches all winter so come on down to Houston Audubon's Bolivar Flats Shorebird Sanctuary and see one for yourself!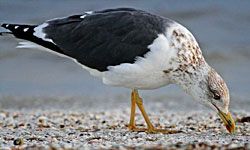 Lesser Black-backed Gull (adult nonbreeding plumage)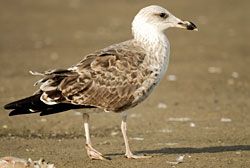 Lesser Black-backed Gull (2nd winter)